Much mud-slinging but no definitive KO in Dilma/Neves first round of debates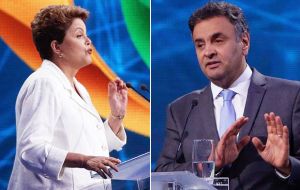 Brazilian President Dilma Rousseff and rival presidential candidate Aecio Neves have clashed over corruption and the state of the economy in the first of a series of televised debates ahead of the second round of presidential elections. 26 October.
The debate broadcast by TV Bandeirantes on Tuesday night saw Rousseff, who is vying for a second four-year term in office, repeatedly questioned on over-target levels of inflation and the poor state of economy, which the latest market forecasts say will grow by under 0.3% this year.
As in previous debates, Rousseff rebuffed claims she had stifled growth, saying a new cycle of growth was on its way and that in the face of the global economic downturn, Brazil has managed to secure jobs.
She also pointed to anti-poverty policies enacted during the 12 years of her governing Workers' Party rule, saying 50 million Brazilians had benefitted from social program handouts.
Neves argued the "DNA" of the programs could be seen in policies promoted by his government ahead of the Workers' Party coming to power.
In retaliation, Rousseff repeatedly linked failures in the Brazilian Social Democracy Party (PSDB) candidate's home state of Minas Gerais, where he was twice elected governor. Rousseff argued the state had seen a sharp rise in homicides and was heavily indebted.
Allegations of corruption involving the Workers' Party, including a huge kickback scheme at Petrobras, the country's state-run oil giant, also featured in parts of the debate.
Rousseff defended her government's response in "investigating and punishing" cases of corruption, and accused Neves of hypocrisy, citing scandals involving the PSDB and Neves personally.
Neves pressed Rousseff on allegations she made of corruption and nepotism, accusing her of being "poorly informed" and even mocking the incumbent when she stumbled when formulating her accusatory questions.
Emotions ran high for both candidates during the crossfire, but overall Rousseff appeared more visibly rattled than Neves, who gave a more confident, composed performance.
Political commentators agreed that neither candidate had landed a "knock-out blow" and that a lack of new information or concrete proposals meant undecided voters watching the late-night debate would likely not be any closer to picking a candidate.