Argentina launches satellite and Cristina Fernandez slams opposition over negative attitude
Friday, October 17th 2014 - 07:24 UTC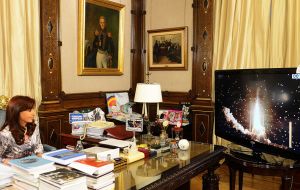 President Cristina Fernandez addressed the country in a national televised broadcast after Argentina's first geostationary satellite was successfully launched on Thursday afternoon. The head of state thanked all scientists involved in the construction of ARSAT1, and seized the opportunity to slam opposition representatives over their plans for the country.
"It was exciting for me. Today I had the feeling dreams can be seen, touched, while awake," Ms Fernandez said, and thanked the "1500 people" that participated in the construction of ARSAT1. "I thank you in the name of the 40 million Argentines".
The President informed ARSAT 2 and 3 are in production and design processes respectively, and will serve to export telecommunications services to the Latin American region, as will ARSAT1.
"This project started in 2004, when Nestor [referring to late President Nestor Kirchner] realized Argentina was about to lose radio-electric space. He then decided to keep Argentina's assigned orbit space and rent satellites," CFK said.
"That is when the ARSAT program was born. Then in 2006 the Argentine Space Program was created," the President said, highlighting opposition newspapers and representatives criticized the project.
"They said the space program was a waste of money and that the scheduled launch for 2014 was a delusion. Now they can see it was not."
Cristina Fernandez insisted the program is an "achievement" for all Argentines, and slammed opposition representatives over their plans for Argentina, looking forward the 2015 presidential election.
"I am sure satellites cannot be revoked," she fired jokingly, aiming at Buenos Aires city Mayor Mauricio Macri and lawmaker Sergio Massa, who earlier in the week said that if elected president, they would go back on several of the laws passed down under Kirchnerism, such as the Media Law and the Anti-Hoarding law.
"Argentines have to think about these issues. If I was not elected President, maybe the space program that Nestor started could not have been completed," CFK concluded.