Pacific Alliance and Mercosur have "a shared vision of regional integration"
Friday, October 24th 2014 - 20:13 UTC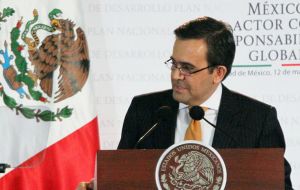 Pacific Alliance and Mercosur country members will be holding a meeting in Colombia "to plan the productive future of Latin America with a shared vision" announced Mexico's minister of economy Ildefonso Guajardo.
During a forum organized by Mexico's oil giant Pemex, Guajardo advanced that "the shared vision" will take place very soon in the city of Cartagena. Apparently the tentative date is November first.
"We need a trade integration of Latin American countries because the future can't be understood without the great productive capacity of the business value chains of this great continent", said Guajardo.
The Mexican official recalled that the continent has one of the lowest percentages regarding integration of business value chains, "a mere 19% compared to Europe's 60% and Asia's 27%".
The Cartagena meeting confirmation is in the context of growing closer links between Mercosur (Argentina, Brazil, Paraguay, Uruguay and Venezuela) and the Pacific Alliance (Chile, Peru, Colombia and Mexico).
The meeting was first announced by Chilean president Michelle Bachelet at the Pacific Alliance summit last June in Mexico, in which the leader emphasized the commitment of the group to have closer links with other integration mechanisms of the region and begin a space of 'overall global approach'.
Likewise on 24 November a meeting will be held in Santiago de Chile with all the foreign ministers of the two blocks to reinforce links, said Eladio Loizaga, head of Paraguay's foreign affairs.
Guajardo said that a greater integration with the continent's power houses will help Mexico address its "Achilles heel" in exports affairs (95% with neighboring US).
Attending the opening of the forum were also Emilio Lozoya, CEO of Pemex; Argentina's Industry minister Debora Giorgi and Mexico's head of Pemex Supply Department, Arturo Henriquez Autrey.