UN assembly (188 out of 193 countries) condemns US embargo on Cuba
Wednesday, October 29th 2014 - 10:43 UTC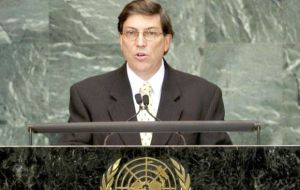 The United Nations General Assembly for the 21st time on Tuesday condemned the economic and trade embargo imposed by the United States on Cuba, a policy that has been in place for over half a century. 188 countries out of 193 voted against the restrictions imposed by Washington against Cuba, which date back to 1962, three years after Fidel Castro took power in a revolution.
Three nations, Micronesia, Palau and the Marshall Islands, abstained, while just the US and Israel voted in favor of the blockade.
"Right now 77% of Cubans were born under these conditions, Cuban foreign minister Bruno Rodriguez told the Assembly as he asked for their rejection of the embargo. "We invite the United States government to a mutually respectful relationship, on a reciprocal basis."
The UN has moved on more than 20 occasions against the measures known as the 'blockade' in Cuba, with more and more countries rejecting the restrictions, which are considered counter-productive to the struggle to secure more civil liberties on the island.
Several delegations also pointed out the country's cooperation internationally, for example in the fight against Ebola in West Africa. Havana has sent more than 250 doctors and health workers in the last few weeks to affected nations such as Liberia, Sierra Leone and Guinea.
But US ambassador to the UN, Ronald Godard, signaled that the support was no excuse for "the treatment the [Cuban] regime gives its own people."
A more critical stance towards the embargo has also grown in the US itself in recent years. The New York Times newspaper called for the end of the policy in an editorial, and elsewhere revealed a change in the mentality of some Cuban 'exiles', an influential force in the electoral swing state Florida and historically in favor of a hard line approach on the Castro brothers regime.