Argentina's holdout dispute spills into the White House: CFK sends letter to Obama questioning Ambassador Soderberg
Friday, October 31st 2014 - 21:21 UTC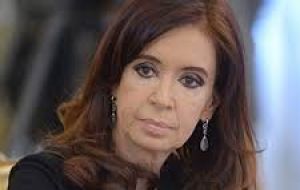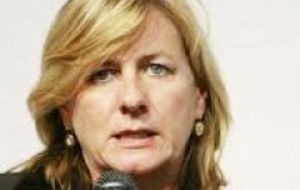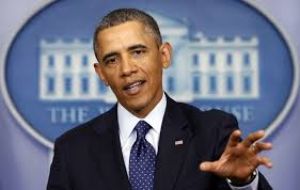 In a harsh letter, released on Friday, Argentine President Cristina Fernandez urged US President Barack Obama to explain whether "Nancy Soderberg, the person you have appointed as Chair of the Public Interest Declassification Board (PIDB), which reports directly to the Government of the United States of America, is also the Co-Chair of the American Task Force Argentina (ATFA), an entity specifically created to attack and slander the Argentine Republic and its President."
In the five-page letter Cristina Fernandez added that if this was confirmed "it would have grave implications for relations between our two countries."
"May I inform you that Nancy Soderberg, the Co-Chair of ATFA, has conducted a defamatory and slanderous campaign of unprecedented proportions against the people and authorities of my country and specifically against myself, with a view to damaging the Argentine Republic for the benefit of a handful of vulture funds that seek to make exorbitant profits while curtailing the sovereign right of my country to restructure its external debt," the letter went on.
"Relations between our governments would also suffer if ATFA's Nancy Soderberg were the same person advising you on national security affairs, as Elliott Management Corp. manages the vulture fund NML Capital, which is also domiciled in the Cayman Islands and has led an international judicial harassment campaign against my country", the president warned.
The Public Interest Declassification Board site points out that Ms Soderberg (Chair) was reappointed by President Obama as Chair on November 16, 2012. She is a national security expert with vast experience at the White House, United Nations, and Congress. While at the National Security Council, she worked extensively on declassification issues. She is currently the President and CEO of Soderberg Global Solutions and a Distinguished Visiting Scholar at the University of North Florida.
From 2009-2013, Ms Soderberg was the President of the Connect U.S. Fund, a non-profit organization that focuses on promoting U.S. global engagement.
Ambassador Soderberg served as Vice President of the International Crisis Group from 2001 until 2005. She was the U.S. Representative for Special Political Affairs at the United Nations from 1997 to 2001, with the rank of Ambassador, and Deputy Assistant to the President for National Security Affairs and Staff Director of the National Security Council from 1993 until 1997. From 1985 to 1992, she served as a Foreign Policy Advisor to Senator Edward M. Kennedy.
Ambassador Soderberg has written The Superpower Myth: The Use and Misuse of American Might and co-authored, with Brian Katulis, The Prosperity Agenda: What the World Wants from America - and What We Need in Return. She is a member of the Council on Foreign Relations. She earned a B.A. from Vanderbilt University and an M.S. from Georgetown University's School of Foreign Service.
Ambassador Soderberg is serving her second term on the Board.