Uruguayan challenger promises to abolish tax on pensions and lift the income tax floor
Friday, October 31st 2014 - 08:15 UTC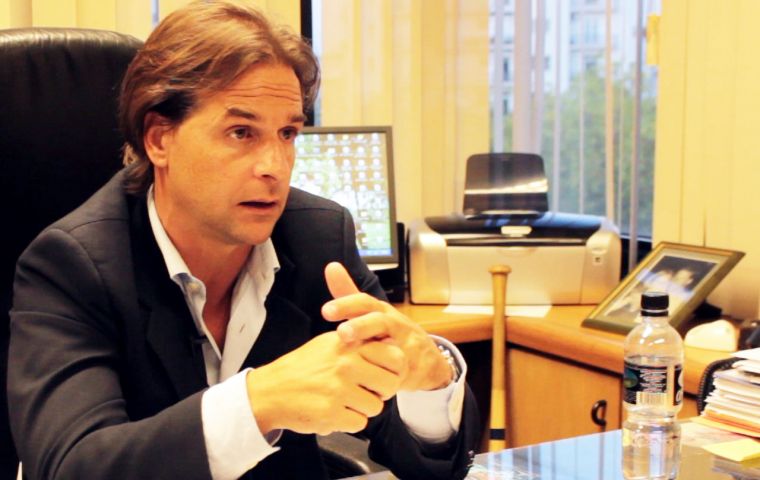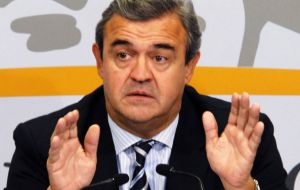 Uruguay's opposition candidate Luis Lacalle Pou admitted on Thursday that defeating incumbent Tabare Vazquez in the 30 November runoff is 'difficult' but not impossible. In last Sunday's first round the incumbent candidate garnered 47.9% of the vote and Lacalle Pou, 30.9%.
"Percentages show that it's going to be difficult but we are going to go after a social majority to win at the end of November. We are going to appeal specially to that 52% that did not vote for the Broad Front coalition and for their trust and support" said Lacalle Pou, on the launching of his month long campaign.
Lacalle Pou said there won't be any major surprises in the campaign for the people to decide on Uruguay's next president, and vice-president, who will give the Upper House the majority since now there is a 15 tie.
Among the issues the candidate promised if elected, are the immediate elimination of a controversial tax on pensions, "on March first, inauguration day", and lifting the floor of the income tax, "we're going to loosen the belt for those with low incomes".
"Take my word, no new taxes, no increase in the retirement age, all of which is in our government agenda", added Lacalle Pou who insisted that the government must be closely monitored, "public opinion must know what is going on; let's put an end to sectarianism, no more the good and bad guys, we're all Uruguayans".
The opposition candidate also underlined his "Zero Settlements (slums)" program which will aid 200.000 Uruguayans, and "we will do it with no hand outs or in exchange for votes".
Regarding education Lacalle Pou recalled that in Uruguay, 80% of children and teen agers are students at government run schools, "we can't look sideways, We must improve the quality of schools, of teaching and not propose vouchers to have children sent to private schools: that is discrimination".
"The best social inclusion is schooling and that should be our target, the target of all candidates, not scholarships for the best to go to private schools", he underlined.
Before Lacalle Pou, his ticket companion and vice-president hopeful Jorge Larrañaga addressed the rally saying that "nor Vazquez or the Broad Front coalition can offer certainties because in a divided country, confidence comes across with dialogue and pluralism", and thus the runoff option is "between an open, plural government and dialogue, or more Broad Front and their radical integration".
"The Broad Front in these last ten years has always ruled with a majority in parliament but has been unable to establish dialogue and reach agreements: they simply turned the bulldozer on", insisted Larrañaga.
He then recalled that the ruling coalition still does not have a majority in parliament since it needs numerically an extra Senator, and has a majority of 'radical' senators. And to monitor closely any government, a 'majority in parliament is not the solution, dialogue, reliability is essential"
"Today the Broad Front has 15 senators and most of them are radicals. Thus if Vazquez wins, the course and destiny of the government will be in the hands of these radicals and this is a fact, we know who are going to occupy those benches" said Larrañaga and added, "the Broad Front might have a majority in the Legislative, but certainly not Vazquez".
The big question is "yes, Vazquez could win, but could he govern? Certainly not with the radicals, so what are they talking about?", said Larrañaga.
"We are committed to winning in November and representing everybody: it's not an easy or simple task, but when has it been? We have great faith that with Lacalle Pou we can challenge and succeed", he concluded.
If former president Vazquez (2005/2010) finally does not make it to 30 November, and Lacalle Pou is elected, the Broad Front would have 15 Senators and the rest 16, eleven from the National party of the winning candidate, four from the junior opposition Colorado party and one Independent.
In the Lower House the current ruling coalition managed 50 out of 99 seats.