Bankers' names for Finance minister in Rousseff's next government
Tuesday, November 4th 2014 - 04:53 UTC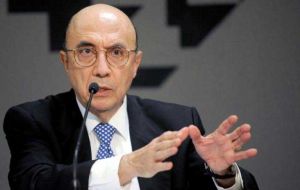 Brazilian banker Luiz Carlos Trabuco Cappi, president of Bradesco, turned down an invitation from president Dilma Rousseff to occupy the Finance ministry as of next January first. According to the Sao Paulo financial publication Valor, there was no insistence on the issue from political sources.
Trabuco Cappi is the CEO of Bradesco, Brazil's second largest private bank, which faces a significant challenge in restructuring the corporation.
"It didn't make sense to insist with Trabuco Cappi or to speculate that he should have put any conditions to the president, since anybody who knows him is well aware that that is not his style", revealed a top official from the bank to Valor. "He's a very pro active professional and is determined to finish whatever he proposes"
However the official said he wasn't surprised by Dilma's interest in inviting a banker for the job of finance minister. "Trabuco Cappi is a top CEO, always open to dialogue and has always geared his team to help the government, no matter the color. This only goes to speak of his commitment to public affairs and the good of the nation".
The idea to name a banker in the finance ministry was a suggestion from former president Lula da Silva with the purpose of calming markets and giving confidence to investors, Trabuco Cappi's name was in the short list suggested to Dilma Rousseff months ago. Another name in the list is Henrique Meirelles, Lula da Silva' s central bank chief during his two governments. Meirelles is an orthodox economist, with a long experience in international banking, who was also Bank Boston's CEO and during his eight years had inflation under control.
However political sources said that Dilma and Meirelles don't necessarily have the best of chemistries. Dilma is very much her own finance minister. Another name is Nelson Barbosa, a former Economy chief.
What is certain is that Guido Mantega, the current minister, will abandon the job next January. This is a decision advanced by Mantega and is also a long requested demand from investors given the poor performance of the Brazilian economy and growing government interference.
Political sources in Brasilia and Sao Paulo also pointed out that no names will be announced until Dilma Rousseff returns from the G20 meeting in Australia in mid November.