ECB ready to give the Euro zone further economic stimulus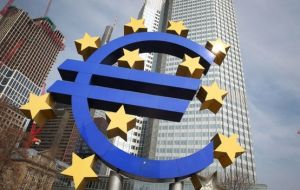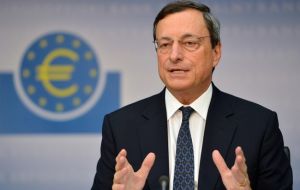 The president of the European Central Bank (ECB), Mario Draghi, says the bank stands ready to give the Euro zone further economic stimulus "should it become necessary". The comments boosted shares in Europe. It also prompted a fall for the euro, with analysts increasingly braced for more dramatic stimulus measures.
The bank began an asset purchase program last month, but has come under pressure to do more to boost weak economic growth in the Euro zone.
The ECB's regular policy meeting left interest rates unchanged at their record low of 0.05%, as expected.
Mr Draghi said: "Should it become necessary to further address risks of too prolonged a period of low inflation, the Governing Council is unanimous in its commitment to using additional unconventional instruments within its mandate.
"The Governing Council has tasked ECB staff and the relevant Euro-system (central bank) committees with ensuring the timely preparation of further measures to be implemented if needed."
His remarks that ECB staff were working on "further measures" were seen as a sign that preparations were in hand for the type of wide-scale action taken by the US, the UK and Japan in the form of quantitative easing (QE).
In September, the bank's head Mario Draghi announced an asset buying program, although not as wide scale as other central banks' recent QE programmes, which have involved buying mainly government debt - something that is hugely controversial within the eurozone and fiercely opposed by Germany.
The ECB's attempt to kick some life into the sluggish eurozone economy is to buy covered bonds and other assets for two years. Covered bonds are those backed by public sector loans or mortgages.
Action in this market is limited, not just by the asset category, but by the relatively small number of these in circulation.
Many economists do not think this will be enough to promote economic recovery and there is pressure on Mr Draghi to come up with more.
Luke Bartholomew, investment manager at Aberdeen Asset Management, said the comments brought the prospect of eurozone QE nearer: "Draghi the politician has won another key fight in the battle to launch sovereign QE.
"He's yet to convince [Germany] but today's statement makes it more likely that we'll see further action from the ECB in December to boost inflation and demand."
Jennifer McKeown, senior Europe economist at Capital Economics, went further: "Today's statement from Mr Draghi that ECB staff are preparing further monetary policy measures provided the firmest support yet for our long-held view that the Bank will implement full-blown quantitative easing. It is now a matter of when rather than if."
Mr Draghi's comments triggered a jump in shares, with France's Cac 40 index and Germany's Dax index both rising by about 1%. The Euro fell by more than a cent against the dollar, dropping from $1.2520 before Mr Draghi's comments to $1.2398 - its lowest level for more than two years.
On Tuesday, the European Commission cuts its growth forecast for the Euro-zone to just 0.8% for this year, down from a previous estimate of 1.2%. The commission also cut its growth forecast for 2015 to 1.1% from 1.7%.