Cristina Fernandez on control of government 'through e-mails and messages'
Saturday, November 8th 2014 - 09:52 UTC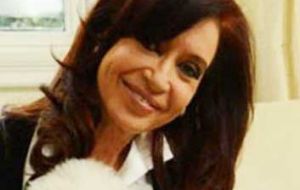 While she waits to be discharged from the Otamendi private medical clinic, Argentine President Cristina Fernández continues to monitor all government decisions and actions. "She sends us indications through e-mails and messages," Industry Minister Débora Giorgi revealed on Thursday.
"Truth is I have not yet been able to speak with her. Like medical reports say, she is doing very good, she is recovering. She send us indications through e-mails and messages, keeping us all on a short leash. She is sending messages and instruction (all the time)," Giorgi said.
The Argentine president was hospitalized on Sunday at the Otamendi center to be treated for sigmoiditis, an inflammation caused by a bacterial infection of the colon.
On Thursday the Presidential Unit said that Cristina Fernandez was in 'stable' condition and remains in the hospital on a "special diet" for her diagnosed sigmoiditis. She will continue under observation at the hospital and once discharged which could be this week, the president must take a ten day mandatory rest at the Olivos presidential residency.
On Wednesday, medical reports said the head of state was "stable" taking symptomatic therapy and receiving intravenous antibiotics.
The health condition has forced the Argentine president to miss the G20 Summit that will be taking place in Australia on November 15-16. Economy Minister Axel Kicillof and Foreign Minister Héctor Timerman will be attending the meeting in her representation.