Falklands accepts Premier's 'realistic solution' to current world oil price environment
Friday, November 14th 2014 - 07:27 UTC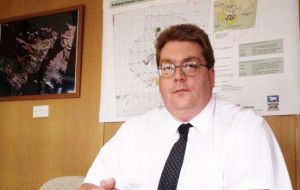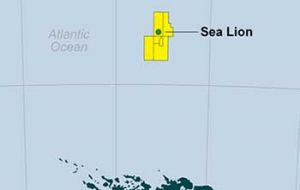 The Falkland Islands Government said on Thursday it took notice of the announcement by Premier Oil of their revised proposal for commercial oil production in the Falkland Islands, which "it is considered represents a realistic solution to progress development in the current international oil price environment".
Earlier in the day, Premier Oil announced it was scaling back its Sea Lion oil field project north of the Falkland Islands as weak oil prices have put pressure on the company to cut costs.
"Following a project review, Sea Lion will now progress initially as a smaller development in the north east of the field with an estimated capex of less than 2 billion dollars", said Premier Oil in its interim management statement.
FIG Director of Mineral Resources, Stephen Luxton, commented: "FIG and its advisers has been working closely with Premier Oil to take forward development of the Sea Lion field and look forward to the existing productive working relationship continuing through project sanction to first oil production."
The Falklands government release adds that it welcomes the participation and investment of international oil companies in the opportunities for oil and gas exploration and development in Falkland Islands waters.
Mobilization for the forthcoming exploration program commencing in early 2015 is already underway, and FIG has received the first submissions from operators seeking the required regulatory approvals to commence drilling. FIG continues to be committed to regulating offshore oil and gas exploration and production to North Sea standards for safety and environmental protection.
In the Development Projects chapter, Premier points out that "progress has also been made on the Sea Lion project, Premier's other operated pre-sanction development. FEED for the TLP has advanced significantly since the award of the contract in July. However, the new lower oil price environment and our commitment to maintaining a strong financial position has caused Premier to re-examine the scheme with a view to reducing the capex incurred prior to first cash flows from the field.
"Premier believes that a smaller initial development of just the north east part of the field, utilizing a reduced well count, could be delivered for less than $2 billion of pre-first oil capex. Initial indications suggest that such a scheme would recover c. 160 mmbbls in 15 years with a plateau rate of 50-60 kbopd. The results of the FEED work done to date, along with results from the 2015 exploration program, will be incorporated into plans for subsequent phases of development.
"Premier, along with the other stakeholders in Sea Lion, are now progressing an initial development of this type. Terms have been agreed with Rockhopper, subject to completion of legal documentation, to split the remaining development carry equally between the initial development and the next phase ($337 million to each). A project of this size can be funded from existing facilities and cash flows. Although it is no longer a pre-requisite to be able to sanction the project, Premier will continue to seek a partner for the Sea Lion development.
Finally the drilling rig for the four well North Falkland Basin campaign is scheduled to arrive on location in February with the Zebedee well expected to spud in March followed by the Isobel Deep well in the south of PL004a. Results of these wells are expected to be known by mid-May. Two further wells will be drilled in the third quarter of 2015.
According to Premier's 2014/15 Exploration & Appraisal Program, which includes Falklands, (plus Pakistan, UK, Kenya, Indonesia and Norway), Zebedee will be drilled in Q1 2015 with a Low risk and Firm status; Isobel Deep, Q2, 2015, Moderate Risk and Firm Status; Jayne East, Q3, 2015, Low Risk, Firm Status and Chatham, Q3, 2015 with High Risk and Firm Status.