Falklands fourteen young footballers off to Chile for 'South of the World Cup'
Friday, November 14th 2014 - 06:27 UTC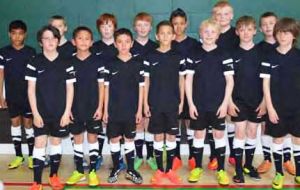 Fourteen young footballers from the Falkland Islands will fly to Punta Arenas, Chile with their coaches on Saturday to take part in the Unifying Continents at the South of the World Cup.The Falklands is entering two teams in the tournament that also includes teams Colegio Aleman, Colegio Cruz del Sur, Colegio Britanico, Leumag, and two teams from Club Deportivo Victoria.
The tournament kicks off on Saturday evening with an opening ceremony and two matches.
The remaining group games will take place on Sunday and the semi-finals and finals will be held on the Thursday to determine who wins the Gold Cup (between the top two teams in each group) and the Silver Cup (between the bottom two teams in each group). They also hope to organize a friendly match for Tuesday.
Monday will be a rest day for the team and during the week there will be a trip to Bulnes Fort and ski centre, as well as an activity in German School with the English division and maybe a visit to the British School if time permits, said Falkland Islands Football League Committee Member and coach Michael Betts.
Regarding training for the trip he explained, "a two hour training session was held every Sunday for the team for a period of 10 weeks in the lead up to the Chile Trip".
The coaches for this trip are Claudio Ross, Wayne Clement and Michael Betts.
The boys were also able to attend the regular Wednesday and Saturday training sessions held by Troyd Bowles and Claudio Ross, which is open to all children within certain ages."
The best 14 players between the ages 10-12 were chosen for the team: "When we had to decide the two teams, we considered abilities, playing styles and any partnerships the players developed amongst each other."
The three coaches will be going with the team, as well as Rebecca Robinson from the Infant Junior School. A number of parents are also going along to provide support. (Penguin News)