Cristina Fernandez returns to office and rallies this week after completing rest period
Tuesday, November 18th 2014 - 07:39 UTC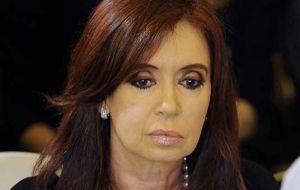 This week the government will be announcing the date President Cristina Fernandez will resume her official duties, Cabinet Chief Jorge Capitanich said. The head of state had to be hospitalized for a week due to a sigmoiditis condition (an inflammation caused by an infection of the colon), currently remaining at the Olivos presidential residency.
"The General Secretariat to the Presidency will indicate next week when she (CFK) will have a rally," Capitanich explained in statements he made to media during a visit on Sunday to the Buenos Aires province locality of San Antonio de Areco, one of the areas that resulted most affected by the recent storm and floods that left thousands of evacuated people in Argentina's most populated province.
The president was hospitalized two weeks ago and last Sunday was released, but her doctors prescribed ten days rest at the official residence, from where she has been monitoring government. In total she will have been absent for twenty days.
Along with San Antonio de Areco Mayor Francisco Durañona, the head of ministers supervised the works that have been carried out in the Areco River to prevent any further flooding.
"The reconstruction of the affected houses and the assistance to the families will be guaranteed because the State is present from the very first moment," Capitanich said and highlighted the "joint and supportive action in the town to resolve the problem."