Cristina Fernandez rests in Patagonia and prepares for regional agenda
Friday, November 21st 2014 - 06:05 UTC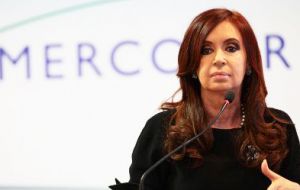 Argentine President Cristina Fernandez left Thursday evening for El Calafate, Santa Cruz province, to spend the long weekend with her family, presidential spokesman Alfredo Scoccimarro reported.
Scoccimarro informed the President received Economy Minister Axel Kicillof and Legal and Technical Secretary Carlos Zanini at the Olivos residency before traveling to El Calafate.
The president will rest in her Patagonia residence after being hospitalized for a sigmoiditis, an infection of the colon, and will return to regular activities next Tuesday, when she will participate in a Construction Camera convention, after being absent from the public eye for 26 days.
The head of state was hospitalized for seven days at the Otamendi Clinic on November 2 and after being discharged she was advised to rest at the Olivos Presidential Residence for 10 more days.
This means the Argentine president will be able to attend a full international agenda in the coming weeks which begins with the inauguration of the Unasur headquarters building, in Quito and which has been named after her late husband, Nestor Kirchner, who was the first chair of the Union of South American Nations.
The ceremony has been scheduled for the first week of December, with the attendance of heads of state from all Unasur members. From Quito the presidents will be flying to Veracruz, Mexico for a new edition of the Ibero-American summit, 8/9 December.
Finally as of 15 December, Cristina Fernandez will be hosting the Mercosur summit in the city of Paraná, which is expected to be attended by the leaders from all full members (Argentina, Brazil, Paraguay, Uruguay and Venezuela) plus Bolivia and Ecuador both in the process of full membership incorporation and most probably Michelle Bachelet from Chile, which is an associate member.