"Habeas corpus" does not apply to Sumatran orangutan in Buenos Aires zoo
Friday, November 21st 2014 - 22:55 UTC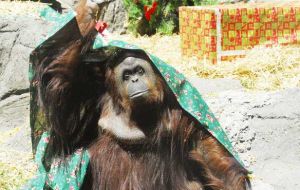 Sandra, a 20-year Sumatran orangutan must remain at the Buenos Aires zoo following the rejection of an habeas corpus request presented by a group in defense of animal rights. The magistrate ruled that the 'non human person' presentation was not applicable to Sandra as pretended by AFADA, Association of Staff and Lawyers for Animals' rights.
"Sandra is in captivity, living in absolute solitude in the Buenos Aires city zoo" argued AFADA, which requested the orangutan be transferred to a sanctuary to preserve the species. "She is being treated as a prisoner and has to suffer the presence of the public staring at her".
AFADA said in the presentation that it was appropriate "to question the deprivation of liberty of the primate, based on illegitimacy and the acknowledgement she is a non human person".
The animals-rights activists' organization anticipated they would be appealing the ruling and demanded Sandra's protection on "at least three basic rights, the right to life, the right not to be tortured or ill treated physically or psychologically".
The criminal court judge, Monica Berdion de Crudo, rejected point blank the request recalling that it only applies to humans persons, but nevertheless ordered an investigation as to Sandra's captivity conditions and if she is a victim of ill-treatment under the 1954 animal protection bill.
AFADA has also presented habeas corpus for chimpanzees in Argentine zoos hoping to establish a lead case "with the purpose of making use of this legal tool in defense of animals in captivity rights", points out a release from the association.
A similar request was presented in December 2013 before a New York court by a US organization that defends animals' rights, arguing that four chimpanzees in captivity can be considered "legal persons" and thus with the right to liberty.