Brazil committed to advance with EU/Mercosur trade negotiations
Saturday, November 22nd 2014 - 09:19 UTC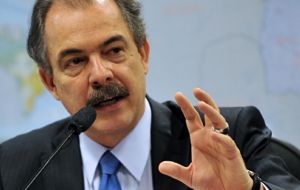 Brazil must speed international trade agreement negotiations, said cabinet chief Aloizo Mercadante, in direct reference to Mercosur and demanding an end to internal disputes.
"Mercosur has been holding negotiations with the European Union, we're in discussions with some countries where there are conflicts, but we must look for a way to advance", pointed out Marcadante, who has become one of President Dilma Rousseff's main advisors in foreign trade issues.
According to the IMF Brazil has one of the most closed economies in Latin America with foreign trade representing below 25% of GDP.
However opening the Brazilian economy is a controversial issue, not only because of the strong interests and lobbying from certain sectors of domestic industry, but also because the ruling Workers Party is divided on the issue, and this is surfacing more than ever.
Only a couple of months ago, Trade minister Mauro Borges stated that the opening of the Brazilian economy to more foreign commerce "would be a disaster for local industry" and also argued strongly against any trade accord with the United States, which together with China are the country's main partners.
But given the poor performance of the Brazilian economy during most of the first mandate of President Rousseff, and prospects of recession in 2015, the situation seems to have injected a more friendly attitude towards foreign markets, when her second mandate begins next January first.
Many manufacturers in Brazil also believe that lower tariffs could help to bring down the prince of inputs and thus give better chances of more competitiveness in world markets.
Mercosur and the EU have been holding discussions for a comprehensive trade and cooperation agreement since 1999, but so far to no avail, despite advances. Minister Borges last August said that Mercosur had agreed on proposals for an accord and was now waiting for a decision from the EU, which also has its problems given recession and fears of strong agriculture competition.
But how negotiations advance and a final stand from Brazil with or without its Mercosur partners will much depend on Rousseff's new economic team, which will have as its more immediate objectives to balance the budget and recover investors confidence.