Busy October in South Georgia: 21 harbor calls and 400 paying cruise visitors
Tuesday, November 25th 2014 - 06:57 UTC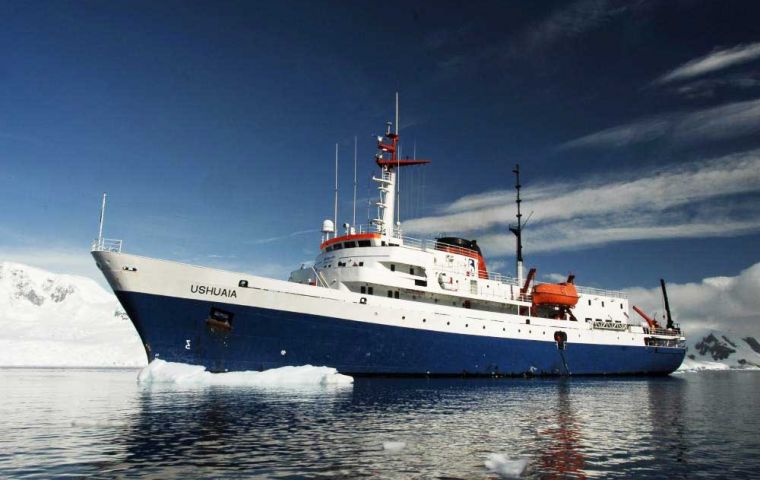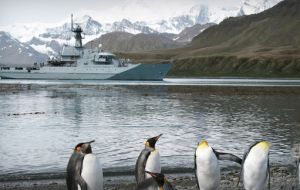 October was a busy month for shipping activities in South Georgia with 21 harbor visits to Cumberland Bay and nearly 400 paying passengers visiting, according to the latest edition (October) of the South Georgia News and Events release.
Two trawlers were licensed to fish for icefish in the first week of October. This fishery is more usually associated with the summer months and fishing was poor. With catches low, both trawlers had left the fishery by the end of the month.
HMS Clyde was on patrol in South Georgia waters in late October, calling in at King Edward Cove on October 22nd. She remained in Cumberland Bay for a couple of days longer than intended because of a severe storm, and then sailed back to the Falklands via the southern end of the island.
The main tourist season started on October 22nd with the arrival of the first cruise ship "Ushuaia". Three more cruise ships visited before the end of the month.
Four charter yachts also visited during October, two were supporting expedition groups. Yacht "Icebird" had five passengers taking part in the 'Ski Antarctica' Expedition. The team had a very successful trip up the Briggs Glacier, across the Kohl-Larsen Plateau, and took an unusual route through a very small pass and on past the Wilckens Peaks before descending onto the König Glacier to Fortuna Bay.
Yacht "Australis" arrived at Grytviken on October 24th with an expedition group of 9 mainly skiers and mountaineers. The group had already attempted the Shackleton Crossing but had abandoned the route because of prolonged bad weather. They had intended to return and complete the route but more bad weather led them to call it off and instead they sailed for the South Sandwich Islands and plan to return and complete the Shackleton Crossing in early November.
The two other charter yachts had small groups of tourists. The group on "Hans Hansson" were supporting the work of two scientists setting up remote camera monitoring of penguin colonies.
The US research vessel "Nathaniel B Palmer" has been in the area to install three GPS stations at remote sites around the island (Smaaland Cove, Bird Island and Annenkov Island). They were hampered by poor weather but did eventually achieve the installations. They also carried out seismic surveys, swath bathymetry and mud dredging to the south of the island. The research ship called into Cumberland Bay in early October but sadly poor weather prevented anyone visiting on shore. Their work in the area was completed by October 16th.