Brazil posts in November its worst trade monthly result in 20 years
Wednesday, December 3rd 2014 - 08:06 UTC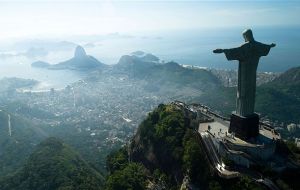 Brazil posted a 2.35 billion dollars trade deficit in November, the country's worst monthly result in 20 years, and cementing its slide into the red for the year after a decade of surpluses.

The deficit for the year to date stands at 4.2 billion, the worst showing since 1998, the ministry of trade said on Tuesday, and November's monthly deficit was 15 times worse than last year's.

The country typically posts a surplus in December, but it is unlikely to be enough to bring the ledger back into black, the ministry said. The last year Brazil posted an end-of-year deficit was in 2000.

Total imports in November were just under US$18 billion, outstripping exports of US$15.6 billion, the ministry said. Export figures took a hit from dropping prices in raw materials and the economic crisis in neighboring Argentina, a major purchaser of Brazilian products.

Brazil fell into recession earlier this year and has suffered relatively low growth for four years. Although GDP raced ahead 7.5% in 2010, growth fell back to 2.7% the following year, hit just 1.0% in 2012 and then rose to 2.5% in 2013.

This year's growth forecast is for barely above zero. Last year saw Brazil post a surplus of US$2.6 billion, the country's worst result in 13 years. A week ago, the government said the world's seventh-largest economy was on the point of exiting recession, with third quarter growth estimated at 0.1% after falls of 0.2% and 0.6% in the two previous quarters.