Maduro's regime charges opposition leader Corina Machado with 'sedition'
Thursday, December 4th 2014 - 05:43 UTC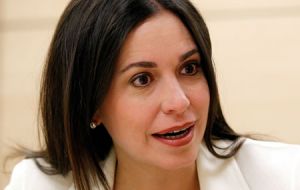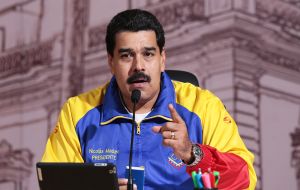 Venezuela has indicted hard-line opposition leader María Corina Machado on charges of sedition claiming she took part in an alleged plot to kill president Nicolas Maduro, the state prosecutor's office confirmed.
Machado, who was at the forefront of major street protests against Maduro's government earlier this year, has dismissed the accusations as a charade meant to silence her and distract Venezuelans from a growing economic crisis.
If found guilty, the former legislator could be sentenced to between 8 and 16 years in jail.
"Our only option is to fight for democracy and freedom," Machado said after she was indicted at the state prosecutor's office in Caracas on Wednesday.
"We're at the doors of a transition period," she said, draped in a yellow, blue, and red Venezuelan flag as dozens of supporters chanted their support.
One of Machado's advisors said authorities had not ordered her immediate detention. There were no immediate indications the case could spark the same type of street demonstrations that rocked Venezuela for three months earlier this year.
Fellow opposition leader Leopoldo Lopez, who with Machado kick started the anti-government protests, has been behind bars since February in what government critics blast as a crackdown on political foes.
They say Maduro, who was elected to succeed late populist leader Hugo Chavez in office last year, has tightened the state's grip on the judiciary and the electoral system, and wants to sideline political opponents ahead of key legislative elections in 2015.
Maduro, a former union leader and bus driver, dismissed this year's protests as part of a US-backed plot to destabilize his government. His popularity has tumbled since he took office, stung by shortages of consumer goods and soaring inflation.
The opposition's radical wing praises the fiery Machado, 47, for standing up to what they consider a dictatorship. But she is loathed by many government supporters, who see her as an out-of-touch aristocrat intent on toppling the government.