UN human rights experts bash US courts on latest racial killings
Saturday, December 6th 2014 - 04:24 UTC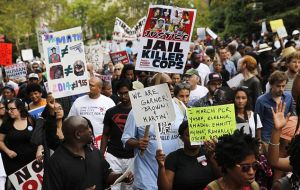 A group of United Nations human rights experts said on Friday that they had "legitimate concerns" over decisions to not charge the white officers who killed two unarmed black men in separate incidents, and they also called for a review of policing in the United States.
The U.N. Special Rapporteur on minority issues Rita Izsák said in a statement that there was "apparent conflicting evidence" related to the summer killings of Michael Brown in Ferguson, and Eric Gardner in New York, and she urged jury trials as a more effective means of reviewing evidence in detail.
"The decisions leave many with legitimate concerns relating to a pattern of impunity when the victims of excessive use of force come from African-American or other minority communities," she said.
The panels of experts belong to the U.N.'s Special Procedures of the Human Rights Council, a body of independent experts who monitor the status of human rights around the world. They also called for US officials to focus on recruiting minority police officers, in addition to improving community-police relationships.
Christof Heyns, U.N. special rapporteur on extrajudicial, summary or arbitrary executions, said the United States needed to have a "comprehensive review" of policing, including "the enabling laws, the kinds of weapons the police use, the training they receive, and the use of technology such as on-body cameras to ensure accountability."
"The laws of many of the States in the U.S. are much more permissive [than international law], creating an atmosphere where there are not enough constraints on the use of force," Heyns said.
Brown and Garner's deaths and the grand jury decisions and protests that followed have attracted international criticism, and this isn't the first time that officials and experts associated with the United Nations have weighed in on the cases. Brown's parents testified before the UN torture committee in Switzerland last month about excessive police force.
Last week, the U.N. Committee Against Torture released a report that criticized the "excessive use of force by law enforcement officials, in particular against persons belonging to certain racial and ethnic groups." Committee member Alessio Bruni called Brown's death a "tragedy" and added that the committee has to respect the grand jury's decision to not indict Wilson.