Argentine government discards 'social outbreaks' this end of the year despite 'destabilizing' groups
Thursday, December 11th 2014 - 11:55 UTC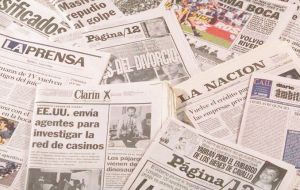 Fearing a repeat of last year's police mutiny which led to rioting and looting, one of President Cristina Fernandez most trusted aides, Oscar Parrilli, Secretary General of the Executive, pledged that Argentines will be able to spend some quiet, peaceful year-end celebrations with no "element" proving a social outbreak.
"Many Argentine families will be able to celebrate in peace and prepare themselves to go on holidays. 2015 will be a very important year from a domestic tourism point of view" Parrilli said in statements to the media on Wednesday describing Argentina's current social situation "normal."
"There are some sectors who want to incite (violence), to create fear or anxiety among society and social or economic destabilization," the official warned but ruled out such a crisis scenario could unfold in the upcoming weeks.
Parrilli revealed he was holding talks with "social organizations," even those that are not aligned with the Cristina Fernández, and pointed out "there is no element" to think that riots could take place.
There are sectors, he added, who seek to "create uncertainty," to "take away the scope for action of the government, to have the government's hands tied when it has to resolve problems," claiming some media part of these "destabilizing" groups.
A "tandem of newspapers," he evaluated, that push for "uncertainty, bad news" to "have politics subordinated to their interests."
"Since this government has not responded to them (media), they dedicate themselves to attack it and twist (information), they lie, create situations that do not exist."