Falling world oil prices shatter Argentine stocks for second day running
Thursday, December 11th 2014 - 12:46 UTC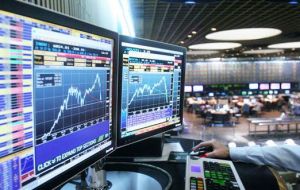 Argentine stocks closed down 6.85% Wednesday, weighted down by falling oil prices for a second day of heavy losses. As oil prices sank to new five-year lows, the Merval stock index in Buenos Aires shed more than 600 points to 8,279.04, after losing 7.22% Tuesday.
State oil firm YPF and Brazil's Petrobras were among the top losers again, falling 7.48% and 8.11% respectively.
Electricity wholesaler Pampa Energia lost 8.40% and electricity distributor Transener lost 7.96%.
The bad news in Buenos Aires came as OPEC forecast that demand for the cartel's oil would fall to the lowest level since 2003 next year, but still showed no signs of cutting production.
That added to downward price pressure created by a supply glut fed in large part by booming production of shale oil in the United States.
The US benchmark West Texas Intermediate crude hit nearly 60 dollars a barrel Wednesday, down 40% from just six months ago.
Argentina is facing its own economic headaches, including a debt default, low foreign reserves and high inflation. The Cristina Fernandez administration is locked in a court battle with two US hedge funds fighting its plans to restructure the 100 billion debt it defaulted on in 2001.
Until the impasse is resolved, a federal court in New York has blocked Argentina from repaying creditors who had agreed to take steep losses on their bonds.
Inflation meanwhile stands at 21.4% for the period from January to October, according to the government, though independent analysts put the figure at 30 to 40%.
Stocks also slipped in other major Latin American economies: Brazil's stock market fell 1.29%; Mexico's lost 2.28%; and Chile's lost 1.32% -- the second straight day of losses for all three.