Paraguay's objections prevent Bolivia from full Mercosur membership
Thursday, December 18th 2014 - 04:25 UTC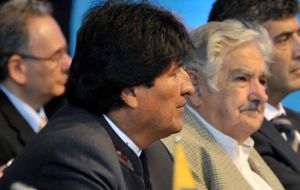 CFK says regional integration not a problem for worldwide integration, labels marketplace a euphemism as the decline in oil price conceals geopolitical interests of other countries
The 47th Mercosur Summit (Common Market of the South) was held on Wednesday in Parana, Argentina, with leaders of Brazil, Argentina, Paraguay, Uruguay and Venezuela discussing among other topics the entry of Bolivia as the newest full member of the world's fourth-largest trading bloc after the European Union (EU), the North American Free Trade Agreement (NAFTA), and the Association of South East Asian Nations (ASEAN).
Bolivia has the green light from Brazil, Venezuela, Uruguay and Argentina from a time when Paraguay was under suspension due to the overthrowing of former President Fernando Lugo. With the sanction lifted, Paraguay seems to be looking to renegotiate the terms of membership.
During her opening speech as hostess, Argentine President Cristina Fernandez underlined that the Mercosur countries have proven that "worldwide integration is impossible without previous regional integration. She added that "to have an understanding with one's neighbours, to commerce with one's neighbours can never be a hindrance to worldwide integration."
Argentine Foreign Minister Hector Timerman praised the commercial agreements reached during the meeting, with a special mention to the common license plates which will allow motor vehicles from all countries to circulate free within the bloc.
He admitted, however, that it was not possible on Wednesday to announce Bolivia's full integration due to objections raised by Paraguay. "Bolivia is already integrated politically. All that's left to be done is its formal entry", said a source in Parana quoted by Argentina's Telam newsagency.
The President also said that "the price of oil is an example of how the marketplace is a wonderful euphemism to conceal the geopolitical reasons and the interests of other countries" and criticised a newspaper article reporting on the investigations by a Nevada judge of 123 firms allegedly owned by or connected to Kirchnerist entrepreneur Lazaro Baez. She added that the country is "defending itself from speculators and vultures" whose "practices are banned in [places like] England, Luxembourg and Belgium".
Also during the summit, the bloc's presidency, currently with Cristina Kirchner, was handed over to Brazil's Dilma Rousseff.