Argentina: Jigger owners request to start squid season earlier
Monday, December 22nd 2014 - 20:45 UTC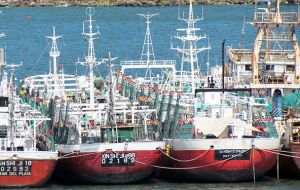 The Chamber of Jigger Owners from Argentina (CAPA) has requested the Federal Fisheries Council (CFP) the anticipated start of the squid (Illex argentinus) season in 2015.
While the official calendar indicates that the harvest should begin on 1 February, CAPA members consider it appropriate that fishing begins in January, considering that the foreign fleet operates with good yields in the area adjacent to the exclusive economic zone (EEZ).
In support of their request, the owners focus on the squid by-catch volume obtained by trawlers in the latest days north of latitude 44° South.
Besides, the CFP sent a technical consult to the National Institute for Fisheries Research and Development (INIDEP), arguing that "if the response given by the Institute makes it possible, it is appropriate to start the squid season earlier".
As the CFP will resume the sessions on 21 January, CAPA seeks to avoid any delay in the departure from ports of jigging vessels, Pescare reported.
In 2013, the jigging fleet started the fishing season on 18 January, as the sector situation was similar to the present one.
Initially, the vessels were authorized to operate between latitudes 44° and 47° South latitude, east of longitude 64° West longitude and south of latitude 47° South, east of the provincial line.
According to the data provided by the Undersecretariat of Fisheries and Aquaculture under the Ministry of Agriculture, Livestock and Fisheries (MINAGRI), between 1 January and 9 December, 2014 a total of 167,182.3 tonnes of squid was landed.
This figure shows a decrease of 12.7 per cent compared to the catches obtained from the first day of 2013 and 30 November of that year, totalling 191,343.1 tonnes.
Out of the total obtained until last 9 December, 148,969.3 tonnes were caught by jiggers; while the trawlers caught 10,078.6 tonnes; and fresh fish vessels captured 7,728.3 tonnes, among other vessels. (FIS)