Bolivian Oil Company CEO on sick leave, has cancer
Friday, December 26th 2014 - 07:43 UTC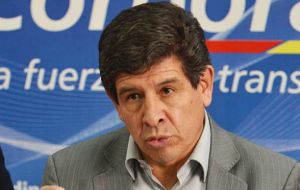 President Evo Morales to coordinate operations with company executive in the meantime. Vice President Garcia Linera makes the announcement regarding 'Comrade' Villegas
Carlos Villegas, the CEO of Bolivia's state-owned oil company YPFB, has cancer and will be taking several weeks off to undergo surgery, Vice President Alvaro Garcia Linera said.
"We regret (to inform you) that comrade Carlos will have to be away in the coming days to have some operations. He has a serious illness, he has cancer. He has to undergo treatment, we are confident that he will know how to beat this," the vice president told a press conference.
President Evo Morales will coordinate YPFB's operations with a company executive until Villegas returns to work, Garcia Linera said.
YPFB vice president for national operations Guillermo Acha, who previously managed YPFB-Refinacion, was sworn in on Tuesday and will run the state-owned energy company in January, media reports said.
Garcia Linera said the Morales administration still had confidence in Villegas's management of YPFB amid a corruption investigation by prosecutors, who have arrested two officials and several other people.
YPFB is Bolivia's largest state-owned company and has been responsible for overseeing the energy industry since Morales nationalised the sector in May 2006.