Uruguay's Economy Minister skeptical on ARU study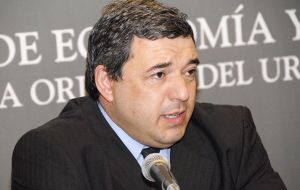 Consumers could have saved as much as US$ 167 million had fuel been imported directly instead of oil being refined by ANCAP. Mario Bergara deems it to be "overblown"
Uruguay's Economy Minister Mario Bergara said that the national oil company ANCAP cannot turn its refinery on and off at will "while prices are convenient" and anticipated that the price of oil will not climb back to over 100 US dollars per barrell any time soon. With regard to to a recent study conducted by the Uruguayan Rural Association (ARU) according to which consumers could have saved as much as 167 million dollars during 2014 had fuel being imported directly instead of ANCAP refining it, the official downplayed those findings, claiming they were "overblown."
"I'm not familiar with the study supporting that and I wouldn't like to take it for certain because it's an overblown number and the truth is that one finds it hard to understand the nature of the study," Bergara said during a radio interview.
According to the official, "the evolution of oil's [international] price is irrelevant because we're comparing costs of refining [not producing]. Uruguay doesn't have oil; what it does have is refining." He added that "these things are a part of the long-term structural energy policies and do not work out automatically." He also explained that "it's not like you can turn on the refinery during the moments when prices are convenient.".
"There has been a substantial change in the public and private investment matrix which makes Uruguay a Latin American example in the turning towards renewable sources," Bergara said. He also admitted a decrease in fuel retail price is under consideration, but declined to elaborate on the size and exact moment for that adjustment.
"Everything points to oil price being at its lowest in the past eight years," which could be beneficial for Uruguay as an importer of oil. "But the drop in oil price can impact the demand on commodities," like in the case of Russia, who buys from Uruguay. He also explained that the world is moving to a higher dollar as a result of monetary policies from the Federal Reserve.
The minister also said it was becoming hard to bring down inflation because the Uruguayan economy "keeps growing at a good pace and the levels of consumption domestically and abroad as well as the offer conditions set up restrictions,".