London concerned as Russian military jets available to Argentina
Monday, December 29th 2014 - 00:23 UTC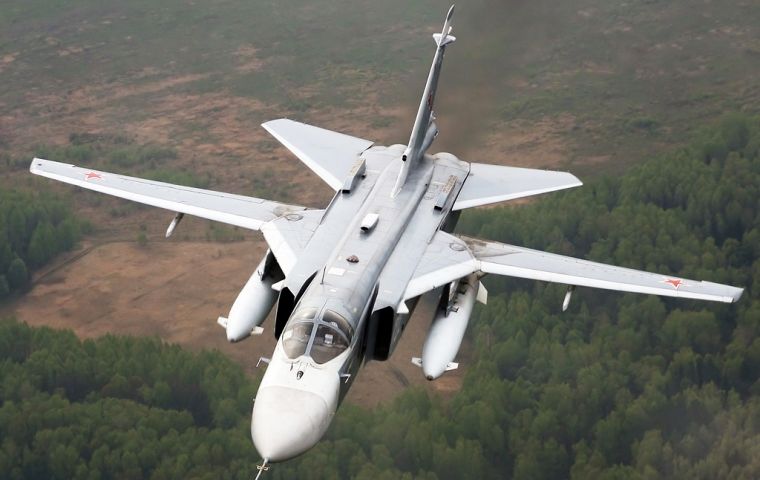 Putin reportedly offered them in exchange for beef and wheat during his last trip to Buenos Aires. 'Sunday Express' cites UK defence sources.
During his trip to Buenos Aires in July, Russian President Vladimir Putin has allegedly offered his Argentine counterpart Cristina Fernandez de Kirchner to exhange military equipment, specifically jet aircraft, for wheat and beef and other items Moscow needs due to EU embargoes, London's Sunday Express reported.
The type of aircraft involved in the proposal would be able to mount air patrols over Port Stanley, the article explained. "Ministry of Defence officials fear Buenos Aires would take delivery of the planes well before the deployment in 2020 of the Navy's 65,000-tonne aircraft carrier HMS Queen Elizabeth and its F-35B fighters, leaving a 'real window of vulnerability'," the newspaper said.
According to the Express, "defence cuts have left the Falklands with just four RAF Typhoon fighters, Rapier surface-to-air missiles and fewer than 1,200 troops, supported by a naval warship that visits throughout the year."
The deal is said to involve a lease/lend of 12 Sukhoi Su-24 supersonic, all-weather attack aircraft also known for their NATO codenames - "Fencers". Although ageing, these jets fall into the "super-fighters" category, with a 2,000-mile range and laser-guided missiles.
Russia has been increasing its links with Argentina since 2010, when it supplied two Mi17 assault helicopters which are in service with the 7th Air Force Brigade. Buenos Aires needs to replace its decrepit fighter fleet but its attempts over the past two years have failed so far.
In October, Argentine Defence Minister Agustin Rossi announced the purchase of 24 Swedish-built Saab Gripen fighters, which were to be provided by Brazil, which has just purchased 36, but the deal was squashed from the UK, where some of the jet's parts are made.