Cristina Fernandez travels to the south; ankle fracture convalescence could take over a month
Wednesday, December 31st 2014 - 03:48 UTC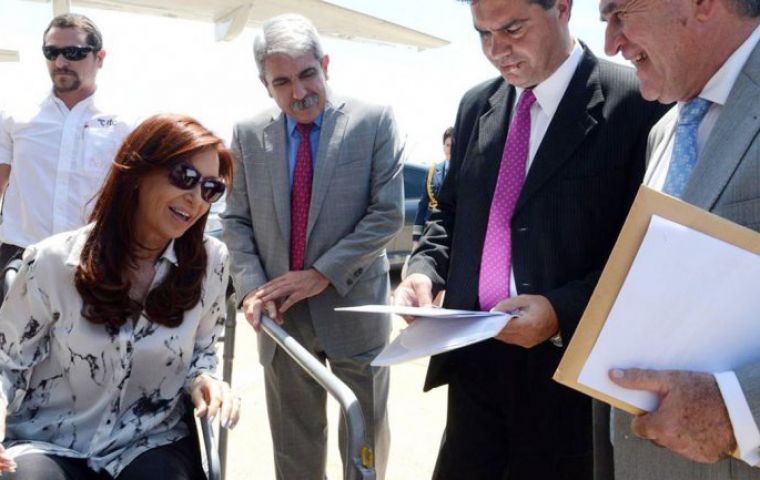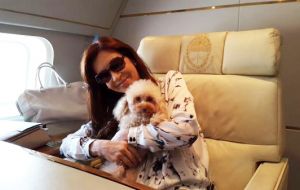 Argentine President Cristina Fernandez, who is suffering from a broken ankle, left on Tuesday afternoon for Calafate in Santa Cruz province, after doctors allowed her to travel. She plans to spend New Year with the family and in good spirits twitted about the authorization, presented her smallest pet, a toy-caniche "Lolita" and announced that small pets will be allowed to travel in all domestic Aerolineas and Austral flights.
"Last night my doctors took an x-ray and my orthopedist authorized me to travel," Cristina Fernandez shared in her Twitter account. She also let herself be seen in a wheelchair next to her closest aides, Anibal Fernandez, Jorge Capitanich and Oscar Parrilli.
The Argentine president fell on a slippery floor and suffered an ankle fracture in Rio Gallegos during her Christmas break last Friday and had to be flown to Buenos Aires for treatment. No x-ray or other support equipment were available at the Rio Gallegos hospital.
According to Cristina Fernandez, starting January 15 small cats and dogs will be allowed to travel with their families inside the aircraft, in all domestic Aerolíneas and Austral flights.
Reports from the presidential residence in Olivos indicated the head of state was forced to keep her leg in the air and moved around in a wheelchair. However this did not impede her from addressing business and meeting some cabinet ministers and aides.
Cristina Fernandez will have to comply with a month-long or even longer convalescence period and is not allowed to step with her left leg; but as she improves could move around with crouches.
As a consequence of the ankle fracture the president will not be able to travel to the Vatican next 22 January to celebrate the 30th anniversary of the Peace and Friendship treaty with Chile. The celebration was to take place with Pope Francis, since the Vatican played a crucial role in achieving the treaty, and Chilean president Michelle Bachelet.
Likewise next Thursday Argentina will be represented by vice-president Amado Boudou at the inauguration of Dilma Rousseff's second consecutive mandate as Brazilian president.