Colombia launches first Antarctic research expedition with Chilean training
Wednesday, January 7th 2015 - 04:20 UTC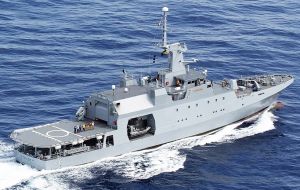 Colombia's first Antarctica expedition is expected to call in Punta Arenas on Wednesday before crossing to the peninsula to begin a three-month scientific hydrographic and climate research with twenty researchers on board committed to ten projects.
The Colombians were prepared and trained during months for their expedition by the Chileans, and will be working closely with them as they approach Antarctica on the Colombian Navy's 20 de Julio, an Offshore Patrol Vessel, (German Fassmer class) which displaces 1,700 tons and has a landing pad and hangar to operate a Bell 412 chopper.
"We are most grateful to Chile and its Navy for all the support in the planning and execution of this first expedition to Antarctica" said navy Captain Ricardo Morales Babra who is Scientific chief of Colombia`s first experience in Antarctica.
Morales Babra revealed that over twenty scientists from private and government universities, plus NGOs and other scientific organizations will be participating in the research projects which were selected by Colombia's National Committee on Antarctic Issues and Colombia's Ocean Commission.
One of the projects will be jointly tasked with Chile's Hydrographic and Oceanographic Service, particularly related to bathymetry and collecting data for the International Chart 9103.
ARC 20 de Julio Captain Camilo Segovia Forero acknowledged the significance of the project and thanked the Chilean navy for its support and sharing their experience with the icebreaker "Almirante Oscar Viel" and the exchange of information regarding charts, protocols, navigation and safety and security measures.
Collaboration between is based on the Cooperation accord for Antarctic affairs signed by the two Pacific countries. Colombia has observer status at the Antarctic Treaty, which rules over the ice covered continent.