Philanthropist who funded recovery of Falklands' SS Great Britain had died
Wednesday, January 14th 2015 - 06:55 UTC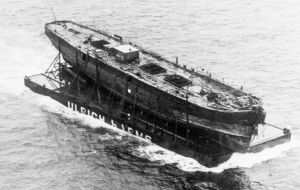 Sir Jack Hayward, the man instrumental in bringing the SS Great Britain back to Bristol, has died. The 91-year-old multi-millionaire helped fund the project to return Brunel's ship from the Falkland Islands in 1970, a journey of 8,000 miles. Known as 'Union Jack' for his patriotism, the businessman was a former owner of Wolverhampton Wanderers.
'Union Jack' also funded the British and Empire Commonwealth Museum. If it was not for his support, the Bristol Docks could well have been tarmacked over.
In 1969, in another moment of impressive philanthropy, he bought a small island in the Bristol Channel for £150,000. It was Lundy Island. He gave it to the National Trust who leased it to the Landmark Trust who continue to manage it today.
In recent years he gave half a million pounds to the Vulcan to the Sky appeal - to get the cold war bomber flying again at air shows. The bomber also participated in the 1982 Falklands' conflict.
Outside Bristol, the businessman was better known as a former owner of Wolverhampton Wanderers, where he is fondly remembered.