Bilateral trade between Mercosur main partners dropped 21.2% in 2014
Friday, January 16th 2015 - 06:49 UTC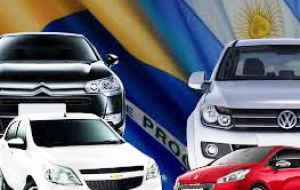 Bilateral trade between Mercosur two main partners, Brazil and Argentina (first and third largest economies in Latin America) dropped 21.2% last year and with a 139 million dollars deficit for Argentina, according to the Argentine Commerce Chamber, CAC.
The CAC report based on data from Brazil's Industry, Development and Foreign Trade ministry points out that the trade balance, although with a negative result for Argentina, nevertheless marked a whopping 95.6% deficit contraction compared to 2013 when it had reached almost 3.2bn dollars.
Argentine purchases in Brazil in the twelve month period ended with a 27.2% drop compared to 2013, while Argentine sales to its Mercosur partner fell 14.1% in the same period.
The sectors which suffered most contraction in Argentine purchases were vehicles and auto-parts; engines, tractors, heavy equipment, motorcycles, agriculture equipment, gas and fuel, buses, pumps and compressors, engine transmissions and car chassis.
As to the fall in Argentine exports to Brazil they were mainly in the areas of auto parts, gasoline, fresh vegetables, buses, iron, urea and car engines. Argentina is Brazil's third supplier behind China (27bn) and the US (24bn). Likewise Argentina is Brazil's third market behind US (24.4bn) and China (20.9bn).