Falklands celebrates with several events 250 years of British claim over the Islands
Monday, January 19th 2015 - 21:28 UTC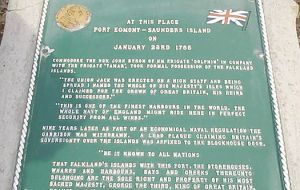 The 250 years since Britain officially claimed the Falklands will be celebrated on a number of occasions this month. Celebrations are being organized in Stanley by members of the public on January 21 and 24 and by Falkland Islands Government on January 23 and 31, along with a ceremony on Saunders Island at Port Egmont on January 23.
According to the latest edition of Penguin News, Taff Davies and other individuals have grouped together to suggest that on January 21 vehicles display Union and Commonwealth family flags.
They hope to see vehicles lined up at a start point on Sapper Hill, with a nominated person in a lead vehicle to unroll a flag and hold up for display and photographs. The vehicles will set off at 3pm, explained Mr Davies and take a route around Stanley.
He said: "By doing this we are acknowledging this important date in the history of the Falklands."
They have also organized a camper-style bash at the FIDF Drill Hall on January 24 with doors opening at 9pm until 1.30am (£4 on the door). It is hoped there will be a licensed bar, Mr. Davies told Penguin News.
The group is also in the process of organizing a time capsule for burial and commemorative books to be signed by everyone in the Falklands, including contractors and British Forces, as a "snapshot of our social history at this time," said Mr. Davies.
At 5.30pm on January 23 there will be a short ceremony on Victory Green when two flags will be raised simultaneously. Members of the Legislative Assembly, FIDF plus youth groups will be in attendance, and there will be a two volley salute, confirmed Teslyn Barkman from the FIG Public Relations Office.
The day will also be marked at the original settlement at Port Egmont by Saunders Island owners, the Pole-Evans family. Representatives of the Falkland Islands Government and the British Forces will be in attendance and a flag created and donated by Joanne Turner to mirror a flag from 1765 is hoped to be raised.
They are also planning a day of fun at the racecourse on Saturday, January 31, from midday to midnight.
This will include food vans, a bar, fun events on the course, such as football, foot events and a bouncy castle and most excitingly a produce fair. Later in the evening an open air concert is planned with both local and military bands playing. All members of the British Forces are invited to join in the day, said Miss Barkman.
The history
Between June 1764 and May 1766, Vice Admiral The Hon. John Byron completed a circumnavigation of the globe as captain of HMS Dolphin. This was the first such circumnavigation that was accomplished in less than two years.
During this voyage, in 1765 on a day between January 21 and 23, he took possession of the Falkland.
Islands on behalf of Britain on the grounds of prior discovery and established Port Egmont on Saunders Islands.
Another expedition arrived around a year later in January 1766, led by Captain John Mac- Bride, with the ships HMS Jason, HMS Carcass and HMS Experiment after which Carcass Island and the Jason Islands were named. (PN).-