Brazil supportive of Mercosur "as long as it does not turn into a burden"
Monday, January 26th 2015 - 08:34 UTC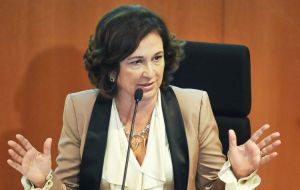 Brazil is ready to preserve the advances achieved by Mercosur but as long as the block does not turn into 'a burden' when it comes to negotiate trade agreements with third parties, according to Agriculture minister Katia Abreu.
"Personally I remain critical of Mercosur as I was when head of the farmers association simply because Mercosur does not allow Brazil, or any other member for that matter, to sign agreements with third parties unless there is a consensus", said Ms Abreu.
"One of the main tasks of the second period of President Dilma Rousseff is to widen our commercial horizons for Brazil's produce and to strengthen our presence in international markets", added the powerful agro-business leader.
Even when admitting many advances in the group which is made up of Argentina, Paraguay, Uruguay, Venezuela and Brazil, "Mercosur must ensure freedom to its members to negotiate with other parties and must not become a burden".
Abreu also indicated that it was necessary to increase cooperation among members to overcome difficulties in areas such as 'tariffs', and sanitary vigilance so that we can make sure that South America becomes "a zone free of foot and mouth disease".
The minister also pointed out that Brazil will try to increase farm exports to the US, EU, Russia and China, which are the top markets for the country, but also expand to other areas such as Asia and Africa.
To that purpose Ms Abreu mentioned selling fruit to Japan; increasing pork shipments to Korea and beef to Nigeria.
Regarding domestic policy the minister was confident that the budget cuts being implemented to balance government accounts won't reach her office.
"What we are trying to cut are expenses and farming is not an expense, rather one of the best investments for Brazil".
Finally Ms Abreu supported the new taxes on fuel which will favor the sugar industry and the production of ethanol and bio-fuels. She also anticipated that the government is considering increasing the percentage content of alcohol in fuel which currently stands at almost 25%.