Journalist who first reported Nisman's death fearing for his life arrives in Israel
Monday, January 26th 2015 - 08:24 UTC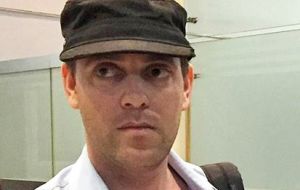 Journalist for the Buenos Aires Herald.com Damian Pachter, who left Argentina on Saturday morning after claiming he feared for his life, has confirmed that he has arrived in Tel Aviv, Israel after flying from Buenos Aires.
"Safe in Tel Aviv. Thank you everybody. We'll talk soon," he wrote via his personal Twitter account on Sunday. Pachter had attracted attention after using the same medium to break the news that AMIA lead prosecutor Alberto Nisman had been found dead on Sunday a week ago.
The journalist also featured in Israeli newspaper Haaretz, where in a lengthy column he detailed his reasons for abandoning Argentina so abruptly.
In the column, Pachter details what he called "the craziest 48 hours of my life," documenting a two-day period that culminated in his fleeing from Argentina with just a backpack. The journalist described how he came to hear from an unnamed source that Nisman had died, and the reaction to his news on Twitter.
"That was the first of many sleepless nights," he admitted in the piece.
Damian later asserts that his decision to leave Argentina was motivated by a call from the "source", who told him that he was being followed and that he should leave Buenos Aires City "immediately".
After catching a bus from Retiro (Buenos Aires railway station) and a mysterious encounter with the source in an unnamed locality, Pachter decides to leave the country altogether and heads straight to the airport.
He later reveals that from Aeroparque he made his way to Montevideo, Uruguay; then on to Madrid, Spain, before a third flight took him to the Israeli city.