Eighteen cruise ships with 2.000 passengers call at South Georgia
Tuesday, January 27th 2015 - 18:45 UTC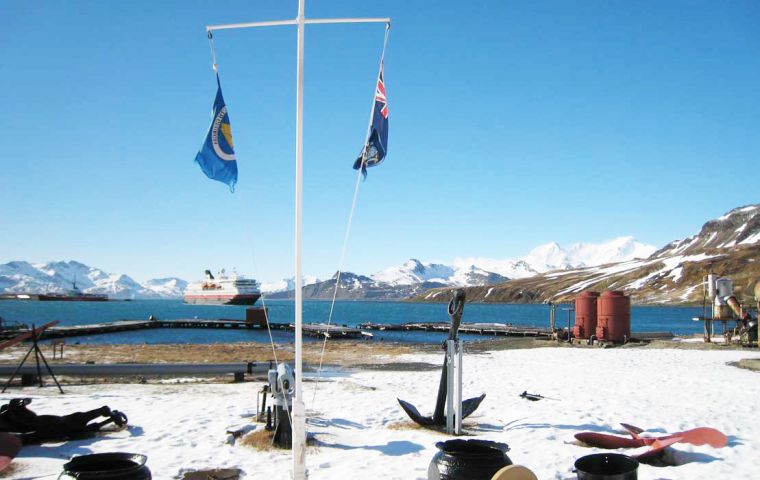 There were 24 harbor visits to Grytviken during December, the majority, eighteen, from cruise ships and charter yachts which between them brought nearly 2000 passengers to visit South Georgia, according to the SG Newsletter.
The period between Christmas and New Year was especially busy with 10 vessels visiting.
The British Antarctic Survey (BAS) ship RRS James Clark Ross tied up alongside at KEP on December 3rd to resupply the science base; all the supplies needed for the year ahead were offloaded in one extremely busy day.
Over Christmas there was also a port call from the Royal Navy vessel HMS Dragon.
However there was a loss of a yacht, Polonus, which was due to arrive at Grytviken on January 4th, but sank off King George Island on December 23rd. The Polish yacht, with a small crew was on the 'Shackleton Expedition 2014' which set out from Poland on July 7th 2014.
The yacht had formed part of the 'Shackleton 100' celebrations in Plymouth, UK, when it accompanied a tall ship representing Endurance that sailed from Plymouth one hundred years after Shackleton's Endurance had set sail south from the same wharf.
Having sailed via South America and the Falkland Islands, S/Y Polonus headed for the Antarctic Peninsula. It was then meant to sail to the expedition's main target, Grytviken, where it was due to arrive on January 5th; the anniversary of Shackleton's death in the same cove.
Whilst off the Antarctic Peninsula, on December 23rd, Polonus was pushed ashore on King George Island by a squall. A nearby Argentine patrol boat came to their rescue and were able to take off the uninjured crew, however the yacht was abandoned. The all Polish crew were then taken to the Polish research station Arctowski from where they were offered passage aboard the cruise ship Zaandam back to South America where they are due to disembark in Buenos Aires, Argentina