HMS Dragon helicopter helps track remaining reindeer in South Georgia
Tuesday, January 27th 2015 - 19:20 UTC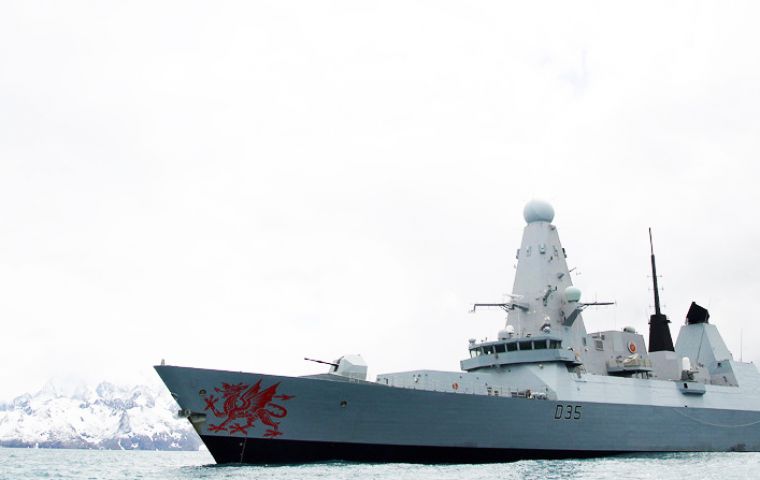 HMS Dragon made her first visit to South Georgia over Christmas, reports the South Georgia newsletter in its December edition. The Type 45 air defense destroyer had a Westland Lynx helicopter on board which was used to survey the Barff Peninsula for any remaining reindeer ahead of the arrival of the Norwegian SNO marksmen.
The two marksmen will arrive early next month to shoot the last few animals following a two season project to remove the two large reindeer herds that had established themselves on South Georgia, having been introduced nearly a century ago by the whalers.
GSGSSI Environment Officer Jennifer Lee went up in the aircraft to perform the aerial survey along with the pilot, an observer and three other members of the ship's crew including HMS Dragon's Captain Rex Cox. Twenty-one animals were seen towards the northern tip of the Barff and so the marksmen will be deployed there first. The aircraft was also used to depot some stores in a remote location on the Peninsula ready for marksmen.
HMS Dragon stayed at anchor in Cumberland Bay for three days, giving all the crew the opportunity to get off and stretch their legs, and even have a game of touch rugby, whilst the locals were invited aboard for a tour of the ship.
The anti-air warfare capabilities of the ship's systems were explained. The Royal Navy Type 45 destroyer mission is "to shield the Fleet from air attack". HMS Dragon is equipped with a sophisticated air-defense system that is able to track over 2,000 targets and simultaneously control and coordinate multiple missiles in the air at once, allowing a large number of tracks to be intercepted and destroyed at any given time.