Nisman will be buried Thursday at the Buenos Aires Israeli cemetery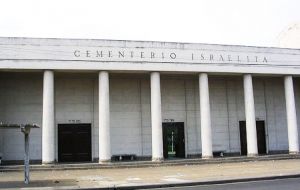 Viviana Fein, the prosecutor investigating the death of Alberto Nisman, will order the delivery of his body to the family, since Nisman's ex wife, Sandra Arroyo Salgado, said that there was no need for a new autopsy in the investigation, the Prosecution said on Tuesday on a press release.
The body will be delivered to the family on Wednesday. Meanwhile, the Jewish News Agency (AJN) reported Nisman's wake and burial were scheduled for Thursday morning. He will be buried in the La Tablada Israeli cemetery.
The investigation moves forward as Fein takes testimony from Nisman's colleagues from the AMIA special unit he headed and the security guards from the Le Parc tower where the prosecutor lived in Puerto Madero neighborhood.
Fein rejected media reports that said that judge Fabiana Palmaghini would take over the investigation. The prosecutor confirmed that she will continue in charge of the probe.
In related news it was reported that two of the bodyguards entrusted with the security of late AMIA lead investigator have been withdrawn from their duties and must be available for further questioning, after inconsistencies were found in the pair's testimony following the death of the prosecutor in his Puerto Madero home.
Sub-officer Armando Niz and Sergeant Luis Miño, both of the Federal Police force, were cited due to a "serious indiscretion". The officers previously testified before case investigator Viviana Fein, but serious contradictions were detected in their first version of events.
Apparently although in the same beat and patrol car, the two gave different times and places for the different events.
However later in the evening it was reported that Roman Di Santo head of Argentina's Federal Police had relieved Niz and Miño of their duties because of a "very serious offence" (negligence) on not having warned their superior officers that they had lost contact with Nisman for over eleven hours. They had to turn in their badges and weapons.
Argentina's Security Secretary Sergio Berni made the announcement to the media.
The rest of Nisman's custody team of ten men and two officers are also under administrative investigation by the Federal Police regarding the events of Saturday/Sunday 17/18 January.