Consumer confidence in Brazil drops in January to its lowest
Thursday, January 29th 2015 - 07:17 UTC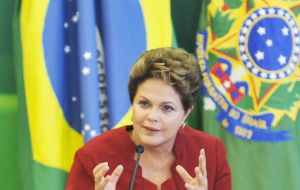 The reading of consumer confidence dropped in Brazil in January--to its lowest level ever--as the country's economy struggled. Brazil's main consumer-confidence index was at 89.8 points in January, down from 96.2 points in December, the Getulio Vargas Foundation, or FGV, said earlier this week.
This marked the index's lowest level since it began in September 2005, according to FGV, which didn't provide the previous lowest level. The index has a one-to-200 point range, with 100 considered an indicator of neutral sentiment.
The low level of consumer confidence in Brazil and the Dilma Rousseff administration was attributed to pessimism over a sputtering economy, particularly inflationary pressures and an increase in interest rates.
Inflation in Brazil is above the top end of the central bank's target range of 2.5%-6.5%, while the Selic base rate is at 12.25% per year.
The country's economy is also failing to regain much traction. After expanding at a projected rate of 0.15% last year, Brazil's economy is expected to grow around 0.4% this year, a rate that economists consider too low for a developing nation.
The consumer-confidence index polls 2,000 families in Brazil's seven largest cities. It measures the willingness of families to make purchases of various types of consumer goods and gauges expectations about employment, income and economic opportunities.