Federal Reserve pledges to be 'patient' on raising interest rates from record lows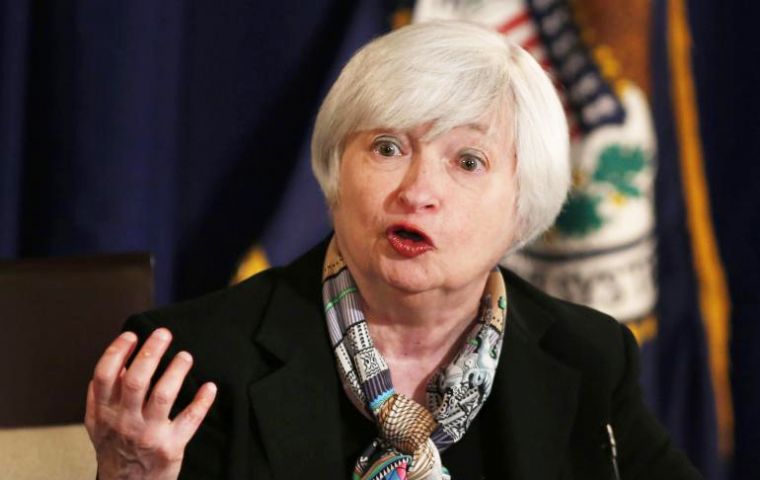 The U.S. Federal Reserve on Wednesday after a two-day meeting reiterated its pledge to be patient and hold off on raising interest rates from the record low levels they've been at for the last six years. The Fed also pointed out it was watching "international developments" closely.
A statement released Wednesday afternoon by chair Janet Yellen and her colleagues contained no hint of a big change in Fed policy, but there was an added note of concern about low inflation.
In a statement, the Fed notes that inflation remains well below its two per cent target and says the factors holding down inflation have intensified since its last meeting in December.
"Based on its current assessment, the (Federal Open Market) Committee judges that it can be patient in beginning to normalize the stance of monetary policy. However, if incoming information indicates faster progress toward the Committee's employment and inflation objectives than the Committee now expects, then increases in the target range for the federal funds rate are likely to occur sooner than currently anticipated. Conversely, if progress proves slower than expected, then increases in the target range are likely to occur later than currently anticipated", reads the release.
Inflation has stayed low in part due to the plunge in energy prices and a steadily strengthening American dollar. The Fed forecasts that U.S. inflation will likely decline further before starting to rise gradually.
The statement also noted that the pace of U.S. economic growth was solid. That suggests that the Fed is still on track to raise its key interest rate later this year. U.S. stocks fell sharply on that. Both the Dow Jones industrial average and the S&P 500 fell more than one per cent.
"When the Committee decides to begin to remove policy accommodation, it will take a balanced approach consistent with its longer-run goals of maximum employment and inflation of 2%. The Committee currently anticipates that, even after employment and inflation are near mandate-consistent levels, economic conditions may, for some time, warrant keeping the target federal funds rate below levels the Committee views as normal in the longer run".
The U.S. federal funds rate remains at the zero to 0.25% target range. Many market watchers expect the Fed to begin hiking its key rate around mid-year. But some economists have recently pushed back their estimates of when the Fed will next move to later 2015 or even into 2016.
Several other central banks, including those in the European Union and in Canada, have either cut rates or announced stimulus programs in recent weeks.
"Markets have been gradually losing confidence in the prospects for higher U.S. policy rates this year, with short-rate futures scarcely pricing in a single [quarter of a percentage point] rate hike by the end of this year," said a commentary from RBC Capital Markets, issued before the Fed announcement.