Another contender for Blatter's FIFA job, Figo: "time for transparency"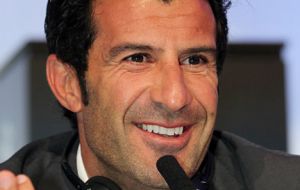 Former Portugal star Luis Figo has announced he will stand for the FIFA presidency. The 42-year-old revealed his intentions in an interview with CNN, a day before the FIFA deadline for candidacies.
"I care about football, so what I'm seeing regarding the image of FIFA -- not only now but in the past years -- I don't like it," the former Real Madrid and Barcelona star told CNN, highlighting how he wanted to improve the image of scandal-hit FIFA.
"I've been talking with so many important people in football -- players, managers, president of federations -- and they all think that something has to be done. Last year was the World Cup, I was in Brazil and I saw the reaction of all the fans regarding the image of FIFA and I think something has to be changed.
"Change in leadership, governance, transparency and solidarity, so I think it's the moment for that."
Figo said he has the required five nominations from FIFA's 209 member federations to get on the ballot sheet for the May 29 election.
He is the fifth candidate to enter the race, joining Dutch FA president Michael Vaan Praag, former FIFA official Jerome Champagne, FIFA vice president Prince Ali Bin Al Hussein and ex-France international David Ginola. Incumbent Sepp Blatter is set to confirm his candidacy on Thursday.
Harold Mayne-Nicholls, Chile's former FIFA World Cup bidding inspector could yet enter the race.
Of the candidates, only Figo and Van Praag have said they have the necessary five nominations from FAs to become candidates. All candidates must show they have played an active role in football for two and would also be subject to integrity checks by FIFA's ethics committee before their eligibility is confirmed.
Figo acknowledged the huge challenge of removing Blatter, who is bidding for a fifth term as FIFA chief, but said it was possible. "I think no one is untouchable in this life," he said. "Sometimes you think you will lose and you win, sometimes you think you will win and you lose. That is the beauty of sport. That is the beauty of this running too. It is not easy but you have to believe."
In a statement, Figo, who has served on the UEFA Football Committee from 2011 – 2015, said he will run a campaign for change, focusing on better governance, more transparency, increased solidarity and the protection of true football values. He promises a detailed program for positive reform will be unveiled in the coming weeks.
"My aim is to nourish my plans with the insights and ideas of the National Associations, to listen to their concerns and to provide a forum for a new approach to FIFA which is focused on FIFA's stakeholders rather than just FIFA," he said.