Argentine officials try to discredit prosecutor Fein and engineer Lagomarsino
Friday, January 30th 2015 - 07:26 UTC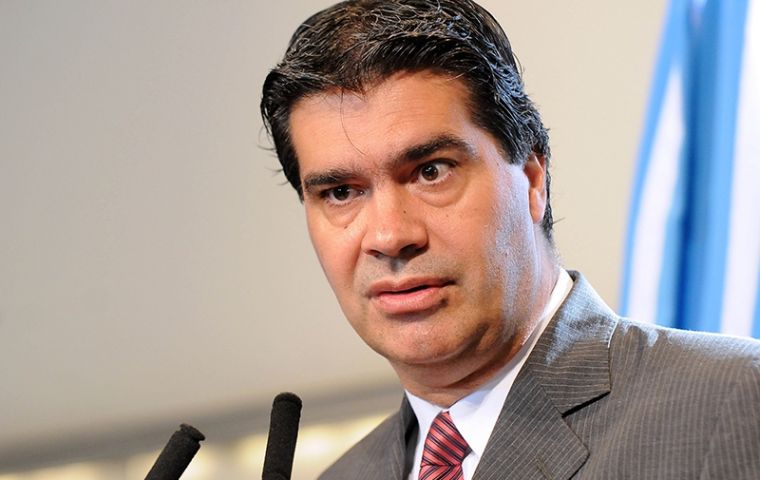 Argentine cabinet members diligently applied on Thursday President Cristina Fernandez strategy to disqualify facts and events surrounding the death of special prosecutor Alberto Nisman which has turned out to be a formidable blow to her administration's credibility.
Cabinet Chief Jorge Capitanich denied contradictions between the remarks by President Fernandez and those of the prosecutor investigating Nisman's death, Viviana Fein, concerning Nisman's return plane tickets from Spain.
Fein told the press that Nisman's airline tickets show he had always intended to travel back to Buenos Aires on January 12, in what seemed to break with the government and opposition's respective theses on why Nisman suddenly cut his trip to Europe short.
"There is no contradiction between the president and the prosecutor," Capitanich stated in his daily press briefing at the government house. "It was prosecutor Alberto Nisman's words from his WhatsApp," he added, referring to a series of messages sent by the prosecutor to his friends and colleagues right before he filed a complaint against the president and other officials for allegedly covering up Iran's involvement in the 1994 AMIA bombing.
"I had to suddenly suspend my trip to Europe with my daughter and return. You can imagine what that means. But sometimes in life moments cannot be chosen. Things just happen. And they happen for a reason," Nisman had written.
"This is not a contradiction from the president," Capitanich said, stressing that the president had merely quoted Nisman's words.
Likewise the Secretary to the Presidency Anibal Fernandez mercilessly attacked the statements on Wednesday of Diego Lagomarsino, one of the prosecutor's closest aides, the last person to see him alive, and the only one to be charged for lending Nisman the gun which finally killed him.
"His words sounded like a huge fabrication. "I don't believe 98% of what he said, statements are too fragile" Anibal Fernandez told reporters on Thursday.
Fernandez was referring to computer engineer Lagomarsino first press conference where he explained that he visited AMIA special prosecutor Nisman twice on Saturday 17 and that he gave him a gun because the special prosecutor allegedly told him he feared for his security.
"When you listen (to Lagomarsino) and pay attention, you notice the weakness (in the story) becomes bigger second after second because the weapon (Nisman) asks him for (…) was an old, disused gun," Anibal Fernandez said as he renewed the government's position that Lagomarsino worked for the intelligence services.
In Wednesday's conference, Maximiliano Rusconi, the lawyer of Lagomarsino questioned President Cristina Fernandez and government officials for making public their considerations about the case, warning he would call for them to be questioned by the judge in charge of the investigation.
"If the judge (Fabiana Palmaghini) finds it necessary and convenient, I will do so. Which is the problem?", challenged Fernandez.