Prosecutor investigating Nisman's death cancels announced holiday
Thursday, February 5th 2015 - 10:05 UTC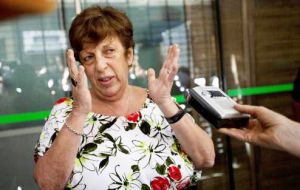 The prosecutor in charge of the investigation of Argentine special prosecutor Alberto Nisman's death, Viviana Fein, finally announced that she will not be leaving on two-weeks holiday on February 18 as she had confirmed on Tuesday.
Fein has found herself under heavy fire from both the government and the opposition for taking a vacation in the middle of the controversial Nisman case. She has also been criticized for her contradictions regarding a draft document found on Nisman's apartment on which the AMIA special prosecutor requested the arrest of president Cristina Fernández.
The Attorney General Office, questioned by the opposition for its alleged lack of independence from the Executive, expressed its "support" for Fein's work in a press release, highlighting the prosecutor's "commitment to truth and objectivity" in Nisman's probe.
The head of the DAIA Delegation of Argentine-Israeli Associations, Julio Schlosser, said to reporters after leaving the Prosecution Office that Fein had told him that she had made her mind "without any sort of pressure."
"She felt that suspending her vacations was her moral obligation. She was tired, she needed them, but this was more important, in memory of prosecutor Nisman," he added.
Schlosser thanked the prosecutor and expressed his "satisfaction and confidence" with her work.