YPF obtains through bonds 500 million dollars; target was 750 million
Thursday, February 5th 2015 - 09:44 UTC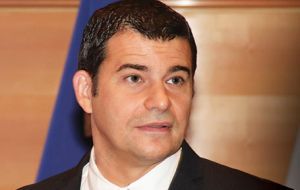 Argentine state majority owned petroleum company YPF has secured funds worth around 500 million dollars on the international finance market after issuing new bond titles, according to the president of the enterprise.
A company statement signaled that "through the reopening of the emission of Class XXVI and XXVII bonds, YPF has obtained 500 million dollars on the world market with a yield of 8.5% and 8.95% respectively."
"YPF has placed more than 2.2 billion dollars on international capital markets in the last 18 months," president and CEO of the company Miguel Galuccio said as he revealed the latest emission, which had aimed to raise up to 750 million dollars.
In related news the Argentine government announced on Wednesday the creation of the so called "Stimulus Program to Crude Oil Production" in a move the government says aims at benefiting both domestic market demands and exports.
In a resolution by the Argentina's National Committee of Strategic Planning and Coordination of the National Plan of Hydrocarbon Investments that was published in the official gazette, the government sets an economic compensation for companies that could reach up to 3 dollars per barrel.
The program seeks also to boost exports by setting an economic compensation of up to 2 dollars per barrel for companies allocating part of their production to the external market.
"Due to the fact that international prices of crude have registered sharp drops over the past months, it is necessary to apply stimulus measures that contribute to mitigate its impact on the level of activity and local employment and to maintain investment guides expected by producers," the government says in the resolution.
The stimulus plan, it adds, will be reached through "two channels," by "increasing crude production in the short term" in order to reduce imports, and by "boosting exploration and exploitation investment to find new fields that allow to recover reserves and reach hydrocarbon self-sufficiency.