Argentina warns the US not to interfere with the investigation of Nisman's death
Friday, February 6th 2015 - 07:25 UTC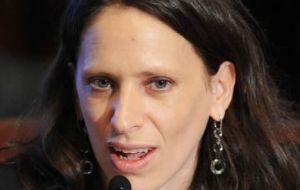 Argentina will not tolerate any United States intervention in the investigation of prosecutor Alberto Nisman's death, and will consider any attempt as an interference in the country's domestic affairs and a violation of Argentine sovereignty.
The defiant message belongs to Argentine ambassador in Washington, Cecilia Nahon, both in writing in an official letter addressed to the Lower House Foreign Relations Committee, and orally to a staff member of the committee.
The message was in response to the announcement from the Foreign Affairs committee that a delegation of representatives was planning to fly to Buenos Aires to collect information on the death of prosecutor Nisman.
In Washington foreign correspondents said this attitude did not surprise the State Department since they are aware that any attempts to insist with an "impartial and transparent" investigation could be used by the Kirchner government to play the nationalistic band, and what really matters is to find out what happened and Nisman's claims that Cristina Fernandez and foreign minister Hector Timerman were trying a cover up for the Iranians accused as responsible of the AMIA bombing in 1994.
However the fact is that it is not a delegation of US representatives that will be flying to Buenos Aires on 16 February but rather a low key group of staffers who will try to collect information on the current political situation in Argentina, with elections scheduled for October, and on the death of Nisman with the purpose of a possible hearing on Argentina in the US Congress.
In fact the death of Nisman already emerged on Wednesday in the US congress during a meeting of the Western Hemisphere Sub Committee under the chair of Republican Jeff Duncan and which addressed the issue "Importance of our region for the US". And one of the testimonies was from Bonnie Glick, who is a member of Meridian International Center and took the opportunity to talk about Argentina extensively.
"The leadership of Cristina Fernandez is so corrupt that it now seems that in complicity with Iran, the president could be behind the death of prosecutor Alberto Nisman, precisely the day when he was expected to testify before the Argentine congress on the investigation of the AMIA bombing which killed 85 members of the Jewish community", said Glick