Argentine administration counterattacks US media on Nisman's case
Thursday, February 12th 2015 - 06:38 UTC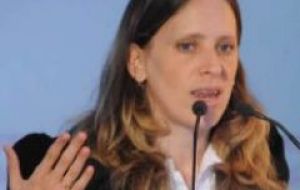 Argentina's Foreign Minister Hector Timerman said that the death of AMIA special prosecutor Alberto Nisman is being "used to attack the government" in an interview with the Washington Post. Meanwhile Argentina's Ambassador to the US Cecilia Nahon wrote a letter to the Post's editor stating that "Argentina seeks only justice in 1994 bombing case."
Asked about the possibility of receiving US assistance to solve the Nisman death, Timerman explained that the government has not received any suggestion from the US but that its help would be declined if offered.
"There is a problem sometimes with the United States. The United States thinks they can have a solution to every problem in every country of the world (…) I don't believe that the FBI has the key to solve every problem all over the world."
The official rejected late prosecutor Nisman's complaint against the Kirchnerite administration for allegedly covering up Iran's involvement in the 1994 AMIA Jewish community centre attack.
"I don't have to prove my history. It is there for you to look at. I don't need to prove that I support the defense of human rights. The same with my government. So it is ridiculous to think I put forward a deal, an economic deal, to forget about the case," he stated.
"I will not throw out of the window my history, the history of my family, the history of my government, the history of my friends who were killed during the dictatorship. I will not do that. For what? For what? To get what? Oil? Argentina doesn't import oil. We don't need oil," Timerman added.
Ambassador Nahon in her turn wrote a letter to the newspaper's editor in response to the January 25 editorial "An Argentine mystery" on the death of Alberto Nisman, which she said "contained grave accusations against top Argentine officials based on unfounded speculation, not facts."
"Any claim that this government was involved in covering up the terrorist attack against the Argentine Israelite Mutual Association (AMIA) is baseless," Nahon wrote. She pointed out that "the fight against international terrorism and impunity has been a pillar of the governments of President Cristina Fernandez de Kirchner and former president Nestor Kirchner" and she described "their dedication to bringing truth and justice to the AMIA attack" as "unprecedented."
Nahón also defended the Memorandum of Understanding signed between Tehran and Buenos Aires in 2013 for a joint probe on the bombing. "The goal of the judicial cooperation agreement signed with Iran was to allow the Argentine judge to question the accused in Tehran," she said.
"Beyond the families affected, no one stands to benefit more from truth and justice than the government and the people of Argentina," she stressed.