GeoPark scales down operations in Magallanes because of falling oil prices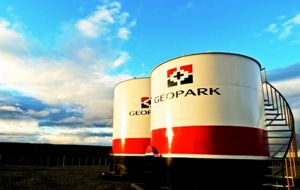 Oil company GeoPark which operates in Magallanes, extreme south of Chile, reiterated its commitment and long term investment in the region but also announced the redundancy of 30 staff, first time in twelve years, because of a restructuring of the company to the new global oil industry scenario.
In a release GeoPark a leading company in oil and gas development in Magallanes said it was forced to adapt its structure to address the world oil crisis with the abrupt collapse in prices.
"It was a difficult situation we had to address and we did with the utmost respect and thanks to all those who helped us build the company. We have also made extreme efforts so that all those affected receive a larger redundancy pay than marked by law, plus offering them a labor reinsertion program to help them with the transition. A solid group of 150 staff continue to work at GeoPark and we trust in our capacity to move forward and continue growing. We are a company involved in hydrocarbons exploration and production, but our mission goes further, we came to contribute to the long term progress of Magallanes and all its inhabitants", pointed out the release signed by Alberto Matamoros, GeoPark CEO in Chile.
The company points out it arrived in Chile in 2005 and since then has invested 600 million dollars in hydrocarbons development in Magallanes, and is one of the main investors in the region in recent years. This helped a significant increase in oil and gas production in Chile, contributing with 40%/50% of the region's mining industry GDP and between 13%/15% to the overall region GDP.
Finally GeoPark says it continues to operate 50 wells in production and has identified another 40 prospects which it plans to explore as the oil price recovers.