Nisman's former wife strongly rejects suicide hypothesis because of his personality
Friday, February 20th 2015 - 04:17 UTC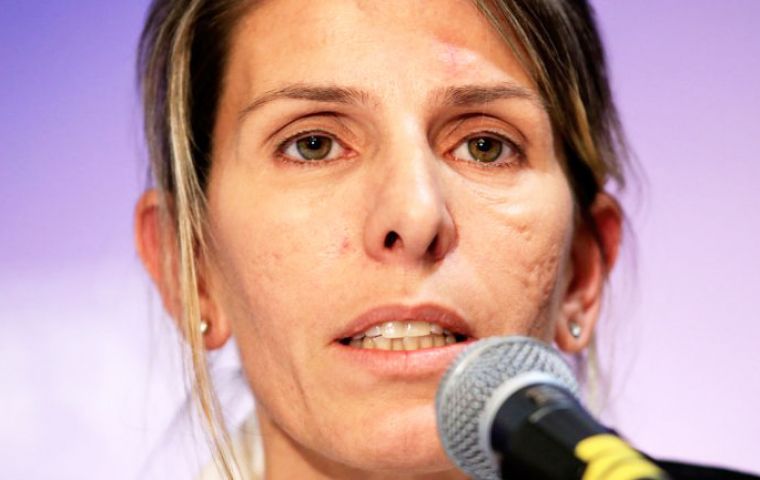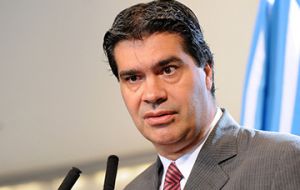 Argentine Federal judge Sandra Arroyo Salgado, late prosecutor Alberto Nisman's ex wife, rejected the suicide hypothesis, due to his former husband's personality, much less with a gun, and admitted she was impacted by the people's demand for 'justice' during Wednesday's 'silent march'.
"I cannot accept Alberto Nisman's suicide because of his personality, even lees with a gun involved," Arroyo Salgado said in an interview with Vorterix radio.
The judge gave details on the prosecutor's return to Argentina days before his death (January 18), interrupting a trip to Europe. She described it as "very tempestuous" and she said that both her and their two daughters found out that he was coming back to Buenos Aires on the same day that he flew back.
Arroyo Salgado spoke about Wednesday's 'silent march' to honor her former husband, which she attended with her eldest daughter, Iara. "The need for the truth was what shocked me the most yesterday," she said. "It was very difficult but we wanted to be in yesterday's march."
During the interview the former wife admitted she did not have the chance to read the charges presented by Nisman against Cristina Fernandez, Timerman and other officials. "I heard about it while in Europe by whasapp and other sources".
Being part of the march was very hard for the family, "but we wanted to be there, and I think it generates great responsibility on my part the fact people recognized me and supported us all along".
Asked about Cristina Fernandez statements who on national television rejected point blank that "anybody would mark the field for her and her administration", Arroyo Salgado said she was not interested in a controversy regarding the president's words, "I don't know to whom they were addressed. My daughters are joyful, positive, full of energy and I try to teach them to know when to be silent".
Following Wednesday's silent march to honor late AMIA prosecutor Nisman, Cristina Fernandez Cabinet Chief Jorge Capitanich said that rallies should be organized to call for the Judiciary to be "autonomous and independent from corporations."
"If the Judiciary has the largest budget in history, if (officials) do not pay income taxes, if they have 45 vacations days, and if they are permeable to corporate interests, the demonstration should be held so that the Judiciary is, effectively, autonomous and independent from corporations, so that no prosecutor is an employee of corporations, so that no judge rules in favor of corporate interests and is willing to investigate capital flights, economic crimes that hurt the Republic," Capitanich stated in his daily press conference at the government house.
In tune with Capitanich, Executive Secretary Anibal Fernandez's said that "behind the silence, the demonstration was an opposition rally." He pointed out that "there are always political interests behind this demonstrations."
"Prosecutors and judges have the truth in their hands (because) they are responsible for solving the attacks on the Israeli Embassy and AMIA Jewish centre," the chief of ministers added. He said that the government and Argentines "want to know the truth" about both crimes. "The world wants to know who were the perpetrators of this hideous crimes," he added.
But controversy was present when the young waitress who was requested as a witness at Nisman's apartment the night he was found dead, Natalia Gimena Fernandez, gave testimony to prosecutor Viviana Fein.
The 26-year-old woman, who deposed for over three hours, was called to either ratify or deny her recent statements to reporters denouncing irregularities during the procedure at the crime scene.
"They drank mate (typical Argentine herbal infusion) and croissants. They touched everything. There were like 50 people (in the apartment). Prosecutor (Viviana Fein) asked 'should we stop here and resume tomorrow?'," Fernandez told Clarin newspaper on Tuesday.
Upset by the remarks, Fein rejected everything, and said that she will not allow Fernández to slander her. She considered her statements "absurd."
"Never in my entire life did I interrupt a procedure. It is embarrassing. Never, over the years, no prosecutor (interrupted a procedure). We never start a procedure and leave," she said.
The witness also claimed that she was offered coffee from Nisman's coffeemaker; Fein claimed the appliance was "never touched. It was not a typical coffeemaker."
Fernández also said Fein showed her a bag with "five cartridge shells or something like that," to which the prosecutor said: "There is a single empty cartridge and nothing else. Four bullets in the charger and one in (Nisman's) brain, in the encephalic portion, there isn't anything else."