Argentina says Mujica's comments on Argentina's integration spirit are 'unfair'
Tuesday, February 24th 2015 - 04:52 UTC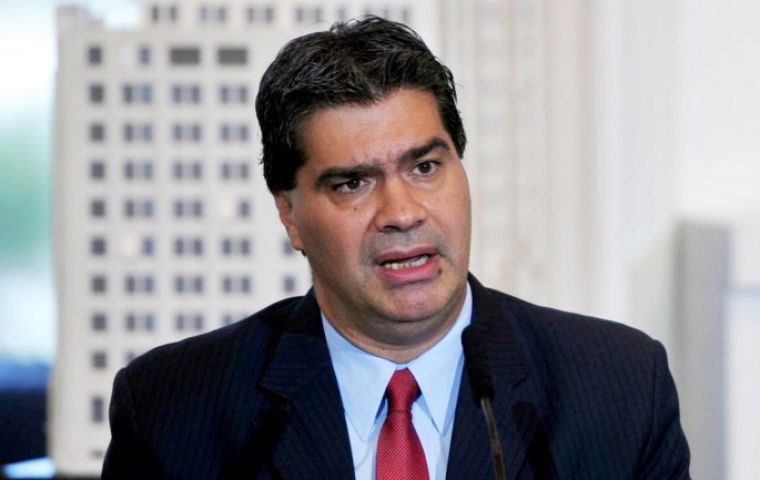 Argentina's Cabinet Chief Jorge Capitanich on Monday responded to Uruguay's President José "Pepe" Mujica, who accused Argentina of "forgetting about integration" when things go right for the country, saying the statement was "unfair" given Argentina's role in the "foundation" of regional integration.
"We are very respectful of the statements of the world's presidents, but it would be unfair if the role that Argentina and presidents Nestor Kirchner and Cristina Fernandez de Kirchner have had in the growth of regional blocs with our brotherly countries went unrecognized," Capitanich said to reporters at the government house.
Mujica in an interview with the Sunday editons of Buenos Aires newspaper 'Perfil' urged Argentina to "accompany" Latin American integration, accusing the government of doing exactly the opposite. "When things go right for it, Argentina does not give a damn (sic) about integration," he said.
Capitanich pointed out that "from 1986 onwards, with the (Raul) Alfonsin – (Jose) Sarney agreement, Argentina has been a founding member of the (Mercosur) regional bloc" and highlighted the Kirchnerite foreign policy towards the strengthening of "the common stance" among the countries of the region in defense of their autonomy, sovereignty and independence.
President of Uruguay José "Pepe" Mujica considered Argentina "should accompany" Latin American integration but instead cares not about strengthening regional ties. "When things go right for it, Argentina forgets about integration," he said.
Only a week ahead of finishing his term in office, ready to be succeeded by another leader of the ruling coalition, Tabare Vazquez, Mujica said the "smallest countries are those pushing the most for integration".
"Because of a need; we go running behind. Integration needs leadership, and that leadership is called Brazil. But Argentina should accompany and it does not do it, better say the contrary. It is like if Argentina would have gone back to a 1960 vision," insisted Mujica.
"In South America, and in all Latin America, there is a big challenge ahead (…). If we don't create mechanisms that go integrating us, that can give us a significant international presence, we will continue as loose points in the world."
"In determining countries of Latin America, Brazil, Argentina, Mexico, leaders talk and assume a pro-integration speech; but from a practical point of view, they are immersed in the contradiction of the national State," Jose Mujica told reporters.
"Towards the rest of the countries in the region, they rule themselves following their domestic tensions", he added.