Argentine 50-Peso bill in March dedicated to "Malvinas Islands. A sovereign love."
Tuesday, February 24th 2015 - 04:03 UTC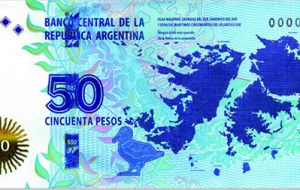 Argentina's Central bank will make available next March the new 50-peso bill paying tribute to Argentina's sovereignty over the resource-rich archipelago, under the slogan "Malvinas Islands. A sovereign love."
The announcement of the bill had been done by President Cristina Fernández on 2 April 2014, anniversary of the Argentine military invasion of the Falkland Islands.
President of the Central Bank Alejandro Vanoli has said the decision to launch the new bill aims at "incorporating a new element of daily use to the inalienable sovereignty demand over the Malvinas Islands."
The note has been designed and produced by Argentina's Mint House, presenting in the obverse the image of the map of the South Atlantic territories and another map of Latin America and the Caribbean, alluding to the support Argentina has rallied among regional nations in its long-standing sovereignty dispute against London. "The Malvinas question has become a Malvinas cause for the rest of Latin America and the Caribbean", president Cristina Fernández repeatedly announce.
The bill also shows albatrosses - that nest in the Malvinas Islands and fly across Argentina's continental areas -, and giant gulfweeds, one of the species of the Austral maritime flora.
On the other side, there will be the image of the Gaucho Antonio Rivero who in 1833 is alleged to have headed the resistance fight against the British occupation of the archipelago, followed by illustrations of the Islands' typical seagull, as a symbol of peace.
The 50-Peso bill will also show the Darwin Cemetery where the remains of many Argentine soldiers have been put to rest and of the ARA General Belgrano navy ship which was sunk by the British forces claiming the lives of 323, almost half of Argentina's total casualties during the 1982 war against the UK, and which was ordered by Britain's then Prime Minister Margaret Thatcher and publicly called by President of Argentina a "war crime".
Colors of the bill are mainly blue, sky blue and white in accordance with the Argentine flag.