Cristina Fernandez secluded to prepare her last 'State of the Nation' speech
Wednesday, February 25th 2015 - 05:37 UTC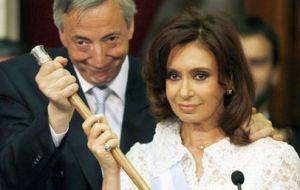 Argentine president Cristina Fernandez flew on Tuesday evening to Rio Gallegos, where according to the presidential agenda she will visit the mausoleum built by her to the memory of her late husband and former president Nestor Kirchner.
In the afternoon the president met at the Olivos residence with cabinet chief Jorge Capitanich and Economy minister Axel Kicillof.
There was no announcement for the return date of the president although it is believed she will restrict her daily public activities since next Sunday Cristina Fernandez will be addressing the Argentine Congress for the opening of the last ordinary sessions period of her second consecutive period.
Argentina is holding national elections next October and Cristina Fernandez will be stepping down after eight years in office on 10 December.
According to reliable media sources, Cristina Fernandez's address will be longer than in previous occasions since she is expected to give a long detailed report on the achievements of her, and her husband's, administrations, and looking ahead to try to ensure sufficient congressional support in the next government.