Falklands historic link to Antarctica exploration unveiled in unique memorial
Saturday, February 28th 2015 - 06:48 UTC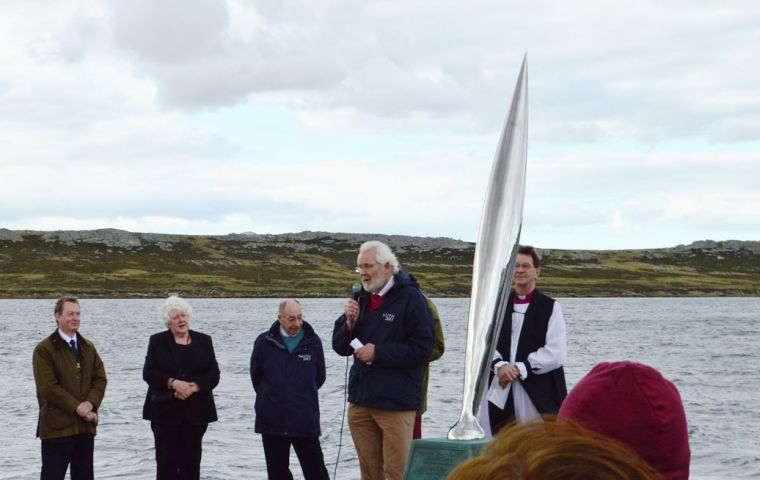 The Falkland Islands historic link as the gateway for British Antarctic exploration was acknowledged this week with the dedication in Stanley's Dockyard Point of the southern component of a unique memorial to the 28 men and one woman of the British Antarctic Survey (BAS), and before that the Falkland Islands Dependencies Survey (FIDS) who have perished in the Antarctic since the establishment by the British Government of the first permanent research base there in 1944.
The monument created by Oliver Barrett is made up of two parts, separated by 8,000 miles.
Addressing the crowd, Roderick Rhys-Jones, chairman of the British Antarctic Monument Trust (BAMT), said the northern part of the sculpture which has been erected in the grounds of the Scott Polar Research Institute in Cambridge, consists of two columns of British oak so carved and positioned as to surround an extended elliptical shape between them.
The southern monument represents that shape in stainless steel, as if the wooden northern part had been its mould. 3.25m high and 350mm at its widest point, the mirror-polished metallic needle inclines to the south and particularly towards the Narrows of Stanley Harbor through which those who lost their lives would have departed for Antarctica.
It is so set that each day the shadow of the sculpture will pass one by one over the names of those killed in Antarctica, which are engraved on the base.
The British Antarctic Monument Trust believe that Oliver Barrett's design reflects the environmental and scientific link between Britain and Antarctica, but also recognizes the emotional and physical separation experienced by explorers and their families.
In addition to the separated sculpture, BAMT have also placed a memorial plaque in the crypt of St Paul's cathedral in London.
The ceremony was attended Governor Colin Roberts, members of the Legislative Assembly, the Bishop of the Falklands Nigel Stock and Rector of Christchurch Cathedral Reverend David Roper.
Member of the Legislative Assembly Jan Cheek opened the ceremony by welcoming the invited guests and the monument to the Islands.
Trustee and relative Brian Dorsett-Bailey thanked Falkland Islands Government and Falkland Islanders for providing such a "perfect place" for a monument that means so much to the families of those lost in the pursuit of knowledge in the region. It was particularly fitting he said, "that the monument pointed to the narrows in Stanley, a passage that every explorer passed through on their way to Antarctica".
The Trust's Chairman, Roderick Rhys-Jones, told Penguin News that the service in the crypt of St Paul's and the reception which followed the unveiling of this memorial on May 10, 2011 brought together some 300 families and friends from all over the world.
"It was an incredibly moving occasion," said Mr. Rhys- Jones, who lost three of his own companions when their Snowcat disappeared into a crevasse when he was working for BAS at Halley Bay in 1996. Their bodies, like many others of those who died in the Antarctic, were never recovered. (PN, MP).-